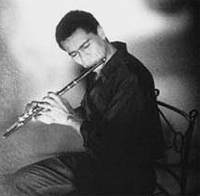 Peruvian flutist and composer Cesar Peredo studied flute at the National Conservatory of Lima. Peredo continued his studies at the Hochschule fur Musik in Detmold, Germany, under the tutelage of Michael Achilles, who was a student of Hans Peter Schmitz (principal soloist with the Berlin Philharmonic Orchestra). He later studied privately in Los Angeles, California, with Arthur Hobermann, one of the most popular flutists in the Hollywood area.
At the same time he was studying in Europe, he attended master classes and courses with renowned soloists such as Paul Meisen, Hans Peter Schmitz, Maxence Larrieu, Andreas Blau, William Bennett,and others.
After returning to Peru, he studied composition with Celso Garrido Lecca and Enrique Iturriaga. In 2001, he won an honorable mention in a composition contest organized by the American Flute Association.
He has performed and/or recorded popular music with renowned Peruvian and international artists such as Placido Domingo, Zamphir, Joan Manuel Serrat, Juan Diego Florez, Pedro Aznar, Fito Paez, Tania Libertad, Gian Marco, Alex Acuña, Eva Ayll?n, Cecilia Barraza, Pepe Vasquez, Dave Valentin, Nestor Torres, Orlando "Maraca" Valle and others.
He participated on the Jolgorio CD of Peru Negro, which was nominated for a Grammy award in 2004 and 2005.
As a classical music soloist, he has performed with all Peruvian orchestras, interpreting concerts for flute and orchestra, some of which had never been performed before in Peru.
As a jazz and world music flutist he has recorded with the most important Peruvian artists.
For 10 years, he was principal soloist with the Lima Philharmonic Orchestra.
Currently, he is principal soloist with the Prolirica Symphony Orchestra (Peru) and conductor of the group "Los de adentro" (jazz & world music with Peruvian roots).
Discography:
Despertando (Adagio, 1999)
Pensamento (Adagio, 2000)
Cosas de Negros (Adagio, 2004)
A Felicidade en Vivo (Adagio, 2007)