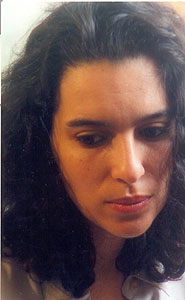 Lamia Bedioui was born in Tunis. She studied economics but was gradually attracted by the art of singing. Living in Greece since 1992, she has collaborated with many singers, musicians and performers, such as Savina Yannatou, Nikos Grapsas, Solis Barki and others.
Lamia participated in several albums: The songs of the Mediterranean, Terra Nostra, In Gedeonis Area, Krotala, etc). Since 2002, she participated at the Workshop of Vocal Art under Spyros Sakkas. She frequently appears before the public in musical scenes and venues in Athens and all over Greece, as well as at International Music Festivals (Belgium, Germany, Italy and Tunisia).
In 2006, her first solo album was released with percussionist Solis Barki, with the title Fin' Amor (Libra Music LM042).
Discography:
Fin'Amor ( Libra Music , 2006)
Athamra (2015)