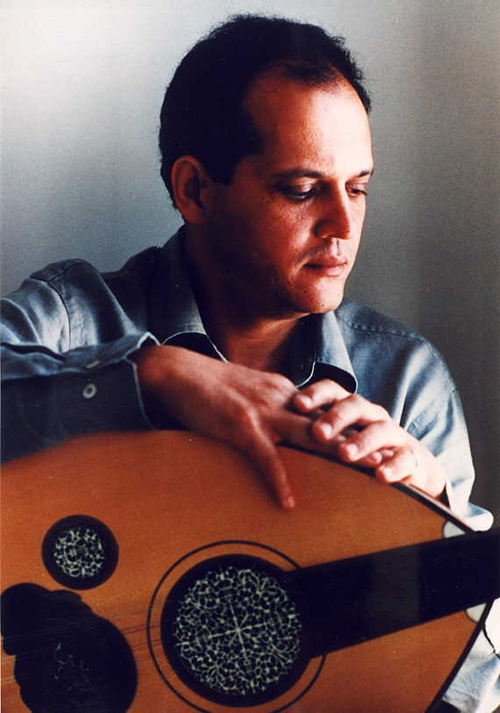 Anouar Brahem was born in 1957 in Halfawine in the Medina of Tunis. Encouraged by his father, an engraver and printer, and music lover as well, Brahem began his studies of the ud (Arab lute), at the age of 10 at the Tunis National Conservatory of Music, where his principal teacher was the ud master Ali Sriti.
An exceptional student, by the age of 15 Brahem was playing regularly with local orchestras. At 18, he decided to devote himself entirely to music. From 1981 to 1985, Brahem lived and studied in Paris, seeking out points of congruence with other cultures. He was, nonetheless, first heard on disc with an all-Tunisian trio on Barzakh (ECM 1432) in 1991. This was followed by the collaboration with Norwegian saxophonist Jan Garbarek and the late Pakistani tabla master Shaukat Hussain on Madar (ECM 1515) and by an album reworking, with an international cast, music Brahem had written for the Tunisian cinema.
In 1985, he returned to Tunis and an invitation to perform at the Carthage festival provided him with the opportunity of bringing together, for "Liqua 85", outstanding figures of Tunisian and Turkish music and French jazz. These included Abdelwaheb Berbech, the Erköse [Barbaros Erkose] brothers, François Jeanneau, Jean-Paul Celea, François Couturier and others. The success of the project earned Brahem Tunisia's Grand National Prize for Music.
In 1987, he became the director of the Musical Ensemble of the City of Tunis. Instead of keeping the large existing orchestra, he broke it up into variable size ensembles, giving it new orientations: one year in the direction of new creations and the next more towards traditional music.
On the recording of Khomsa, his partners were Tunisian violinist Bechir Selmi, Swedish bassist Palle Danielsson, Norwegian drummer Jon Christensen, and three musicians from France – accordionist Richard Galliano, keyboardist Frangois Couturier, and saxophonist Jean Marc Larche. Although Dave Holland and John Surman both contributed compositional material to Thimar, Brahem's following album,most of the writing stems from Brahem's pen.
Two of the pieces were written originally for the Musical Ensemble of Tunis, two more for the Tunisian Theatre, and one originated as a sketch for the Khomsa ensemble. The majority of the music, however, was prepared specifically for the Thimar session. Dave Holland: "I hadn't known what to expect. Anouar gave us a pile of music the day before the session. There were no bar lines – and of course there were no chords, because that's not a reference point in this music. But there were these complex melodies, and one phrase might have seven beats in it, and another phrase nine. And when John and I started to play this, at first we were stumbling all over ourselves. But we persevered, put some pencil marks on the music, talked about how to approach the structures… At the session, things started to fall into place, as they so often do. The moment impresses itself upon you, and you rise to the occasion. Bringing these traditions together is by no means simple, and I think what we ended up with is music that has real value."
As was the case with Kenny Wheeler's Angel Song, the drummerless music of Thimar places special responsibilities on Dave Holland to shoulder most of the rhythm duties. The demands seem to bring forth some of his finest playing. "With John and Anouar, although my main function was to be accompanist and rhythm player, I felt I was getting support from both of them because of their ability to maintain a sense of rhythm independently…" Holland was invited into the session after producer Manfred Eicher played Brahem Angel Song. Brahem: "I listened to that album following the bass. It's like the heartbeat of the music. And Dave's sound is so beautiful. Powerful, but rounded, not at all aggressive or harsh." The ud player first became aware of John Surman's music with the release of the solo album Road To St. Ives in 1990. "This extraordinary sense of melody that John has. ..I liked that so much. It touched me very deeply. Since then, I've listened to everything he's done."
In 1994, Surman and Brahem toured Japan together but separately, playing opposite each other in concerts to mark ECM's 25th anniversary. "We got to know each other and got along well and talked then about making a record one day. His playing on all his instruments is exceptional, but I especially like the blending of the bass clarinet and the ud. The wood in the sound makes it a very satisfying combination, I think. "I was really impressed with the engagement of both Dave and John in the making of this album. Collaborations of this kind can be quite…dangerous. Sometimes musicians of different cultures meet only superficially. But they were both concerned to get to the essence of the music."
In 1995, Brahem released Khomsa, featuring Richard Galliano, Bechir Selmi and François Couturier. This was followed by 1998's Thimar with John Surman and Dave Holland.
The Astrakan Café album came out in 2000 as Anouar Brahem Trio with Barbaros Erköse and Lassad Hosni.
In 2002, Brahem released Le Pas du Chat Noir, recorded with François Couturier and Jean-Louis Matinier, followed by
2006's Le Voyage de Sahar withe the ame lineup.
In 2009, The Astounding Eyes of Rita came out. Lineup: Klaus Gesing, Björn Meyer and Khaled Yassine.
Souvenance was released in 2014, recorded with Francois Couturier, Klaus Gesing and Björn Meyer.
Anouar Brahem released Blue Maqamns in 2017 with Jack DeJohnette, Dave Holland and Django Bates.
Discography:
Barzakh (ECM Records, 1991)
Conte De L'Incroyable Amour (ECM Records, 1992)
The Silences Of The Palace Caroline Records, 1994)
Madar (ECM Records, 1994)
Khomsa (ECM Records, 1995)
Thimar (ECM Records, 1998)
Charmediterranéen (ECM Records, 2002)
Le Pas Du Chat Noir (ECM Records, 2002)
Le Voyage De Sahar (ECM Records, 2006)
The Astounding Eyes of Rita (ECM Records, 2009)
Souvenance (ECM Records, 2014)
Blue Maqams (ECM Records, 2017)