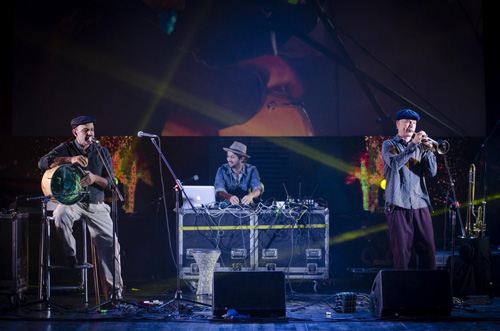 Fanfara Station, a band formed by musicians from Tunisia, Italy and the USA won the 12th Andrea Parodi Prize, the only contest in Italy dedicated to world music. The group performed the song "Rahil" in Tunisian. Additionally, Fanfare Station also won the critic's award and the best arrangement as well. The contest took place October 10-12, 2019 at the Conservatory "Giovanni Pierluigi da Palestrina" in Cagliari, Sardinia, Italy. The winners were chosen by three different juries.
The prize for the best lyrics went to Federico Marras Perantoni's song "Canzona di mari n.2 – Fóggu e fiàra", in Sardinian language.
The best music award was given to Elliott Morris (United Kingdom) for "The End of The World Blues", in English.
The best performance prize went to "Suspiro" by Suonno D'Ajere, from Campania, sung in the Neapolitan language.
The award for the best performance of a piece by Andrea Parodi was won by Setak, from Abruzzo.
Togolese band Arsene Duevi's song "Agamà", in Ewe language, won the upcoming artist award.
The Andrea Parodi Foundation decided to assign a special mention to Krzikopa (Poland) who performed "Hasiorki" in the Silesian language.
The competition this year featured a large presence of foreign artists, including Acoustic Tarab Alchemy (from Tunisia and Lazio) with the song "Fattouma", in Arabic; Saly Diarra (Senegal) with "Musow" in the Bambara language; Maribop (Spain) with "Un munnu dintra un munnu" in Sicilian and Basque languages.
The Albo d'oro (Golden) Award went to Daniela Zedda, photographer and photojournalist of international importance.
All the prizes are made by Maria Conte, a Sardinian goldsmith artist renowned throughout the world.
The event also hosted important guests such as Moni Ovadia and AdoRiza (Friday), Simone Cristicchi, Tosca and La Maschera, the winner of last year's competition (Saturday). On Saturday there was also an extract from the show "Lingua Madre, Pasolini's songbook", with Duo Bottasso, Elsa Martin, Davide Ambrogio. This is an original production of the Premio Città di Loano, the Mare e Miniere festival and the Andrea Parodi Prize, an idea by Enrico de Angelis.
Moreover, various artistic lineups from the Cagliari Conservatory performed in all the three evenings, led by artist director Elena Ledda and conducted by Gianmaurizio Foderaro and Ottavio Nieddu.
The festival was created to honor and enhance the art of the talented singer and musician Andrea Parodi, who evolved from making pop with Tazenda to a highly valuable solo career where he recreated traditional roots music, thanks to which he became an international reference for Italian world music.