Poranguí – Poranguí (Sol Creation Records, 2019)
The Sol Creation Records release Poranguí is where fantastical rhythms rise from the earth, where vocals dive off cliffs to be buffeted by didgeridoos and flutes and where electronica seeps through the air like mist. Part shamanic ritual and part sonic wonderland Porangui is where listeners can find their rooted place on earth, fly along with the birds and perhaps on the edge of firelight dance just a little wildly.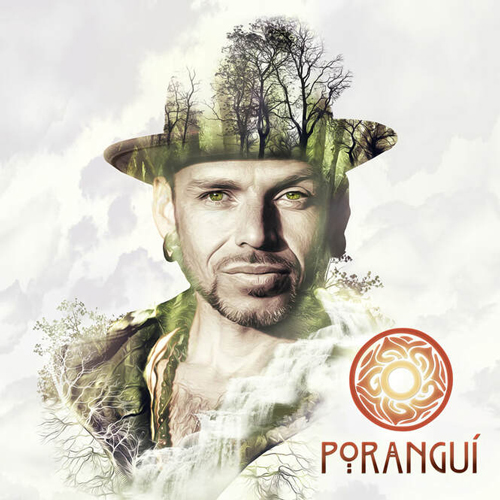 Following up on the releases of the original motion picture soundtrack Ayahuasca and Ayahuasca Remixed, the live looping artist, musician and educator with an ethnomusicology background from Duke University, Porangui shows listeners and live audiences with way with meditative sounds and dance grooves with addictive results.
"Everything I do live is steeped in improvisation, in spontaneous sound. A lot of the work I do musically is about connecting to what's happening in the moment in a given space with a given group of listeners," says Poranguí. "I try to get a feel for what is in the seen realm and the unseen realm, really tuning into the energetics of the space. That's where the magic is."
Recorded at an opening ceremony for Lightning in a Bottle and at the Espiritu stage at Santa Fe's Unify Fest, Porangui Live opens with an electronica and chant combination on "Ganesha," and the magic musical carpet ride just takes off from there. The sound of frogs opens "Tonantzin" but is quickly taken over by the twangy goodness of didgeridoo wrapped around some tightly packed rhythms and soaring vocals. Just as wonderful is the delicate and dreamy "Oxum" with its birdsong, water sounds and silky vocals before the rhythms ramp up deliciously.
Porangui notes, "Music isn't entertainment for me, as the goal is transformation. It's a bridge to the heart, to a space where we can begin to imagine our best selves. This is crucial as our planet needs humans to upgrade themselves. For me, it's coming into contact to our role as fire keepers. Technology is merely a different form of the fire we came to master long ago. We have a choice: to burn ourselves and everything around us with the fire of technology or to use it to illuminate the way."
And, Porangui Live illuminates the way with offering of a percussion and mouth harp combo as a sort of invitation to play with the coyotes that can be heard in the distance on "Otorongo" or the flute lines along with rattles that sound like old bones against a thrum of percussion before evolving into a call to the night sky on "Danza Del Viento." Closing with a kind of celestial lullaby on "Stardust," Porangui lets us return to earth and revel in the night sky with loving vocals against dreamy electronica.
Snaring a little nature, riding waves of soaring vocals and hypnotic electronica and letting the mind of the listener slide from track to delicious track, Porangui Live is a kind of sonic sanctuary where listeners might just heal what ails them.
Purchase Poranguí