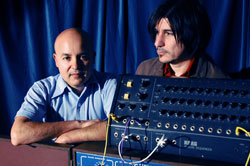 The Nortec Collective is comprised of various artists. The first lineup included Fussible (Pepe Mogt), Bostich (Ramón Amezcua), Panoptica (Roberto Mendoza), Clorofila (Jorge Verdún) and Hiperboreal (PG Beas). These musicians created and perform a style of music called Nortec – a fusion of Norteño ("from the North") and Techno, documenting the collision between the style and culture of electronica and traditional Mexican music.
Some former members of the collective created an offshoot called Niño Astronauta. The group released a debut CD, Niño Astronauta.
The 2005 album, Tijuana Sessions, Vol. 3 (Nacional Records, 2005), features the hypnotic first single Tijuana Makes Me Happy, as well as the infectious Tengo La Voz.
Discography:
Nortec Sampler ‎(Mil Records, 1999)
Nortec Collective Presents Bostich + Fussible – Nortec ‎(Opción Sónica, 2000)
The Tijuana Sessions Vol. 1 (Palm Pictures/Mil Records, 2001)
Tijuana Sessions Vol. 3 (Nacional Records, 2005)
Tijuana Sound Machine (Nacional Records, 2008)
Nortec Collective Presents Clorofila: Corridos Urbanos (2010)
Bulevar 2000 (Nacional Records, 2010)
Border Revolver ‎(2013)
Motel Baja (Nacional Records, 2014)