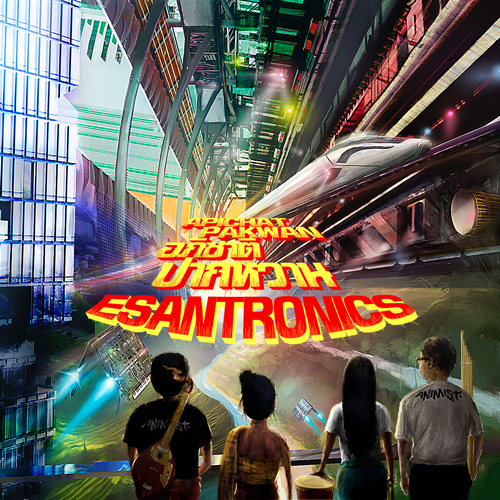 Apichat Pakwan – Esantronics (Animist Records, 2019)
Esantronics introduces a wonderful world of hybrid music where traditional Thai music meets European electronic music. Apichat Pakwan includes Thai musicians who perform music from the Northeast region of Thailand, also known as Esan, and Dutch composer and producer Olivier Schreuder.
The project got started when Olivier Schreuder became passionately interested in the music of Laos and Esan. While studying this music in the city of Khon Kaen in the region of Esan in Northeast Thailand he encountered a group of young and very fine musicians with whom he started playing and recording a mix of the traditional music with local instruments like the kaen (mouth organ), phin (stringed instrument), pi phu thai (flute), sor (fiddle), a wide range of percussion and analog and digital electronics.
Apichat Pakwan is not a studio only project. The group has performed live throughout Asia and Europe. The lineup varies and there is always room for improvisation. Although the ensemble originally played instrumentals, vocalist and composer Anusara 'Bee' Deechaichana joined the project. She wrote the lyrics for the songs.
Although Apichat Pakwan had released some recordings before, Esantronics is the debut full album. It was recorded at various locations in Thailand, as well as in Singapore, Amsterdam and Berlin.
The lineup includes Olivier Schreuder on percussion, drum programming, Fender Rhodes, kaen, electronics; Pumisakseri 'Kwang' Sasida on phin, kaen and sor esan; Angkanang 'Num' Pimwankum on percusssion; Anusara 'Bee' Deechaichana on vocals; Wimonmat 'Wiw' Kangjantha on vocals; Arthit Krajangsree on phin; Pongsapon Upani on kaen; and Chanawat 'Smurf' Jonhjoho on sor esan.
Esantronics is a superb album where fascinating, innovative Thai roots music meets masterfully-crafted electronica.
Buy Esantronics