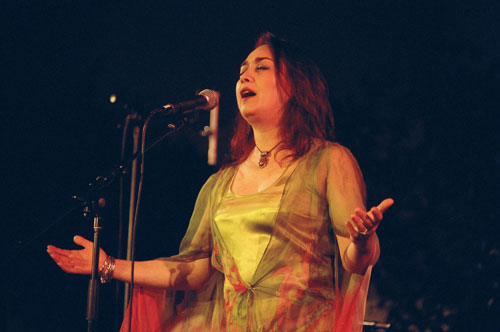 Born in Iran, Mamak Khadem was part of the Children's Choir for National Radio and Television, and immigrated to the U. S. as a teenager in 1976. After the Iranian Revolution of 1979, her passion for singing and learning traditional Persian vocal styles grew.
"When I think of my childhood, my memories are inseparable from the melodies that touched my soul when I was growing up. It was through establishing this personal relationship with music as well as my training at the children's choir for National Radio and Television of Iran that my musical education began. But it was not until the late 1970s and after the revolution that I truly became inspired to learn Persian traditional vocals." Thus Mamak Khadem sums up her musical background.
She was inspired by works of master musicians in the 1980s and regularly traveled back to Iran to study with prominent vocalists and musicians. She also studied classical Indian singing at Ali Akbar Khan College of Music in northern California and Eastern European singing with the Los Angeles-based women's choir Nevenka.
In 1992, Mamak joined Axiom of Choice, and over the next ten years created three albums with the group. Khadem embarked on a solo career and in 2007 released a new solo recording, Jostojoo (Forever Seeking). Inspired by her travels throughout the Middle East, Khadem adapts Persian poetry to rearranged traditional melodies from various regions of Iran, Baluchistan, Armenia, Turkey, Greece and Kurdistan.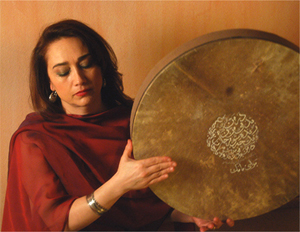 Khadem has also been a featured performer on several film and television scores, including The Peacemaker, Traffic, Buffy The Vampire Slayer and Battlestar Galactica. She sang music composed by Iranian ethnomusicologist Mohammad Reza Darvishi for the play Majles-e Shabih (by renowned Iranian playwright and director Bahram Bayzaie). In addition, Khadem has recorded with Turkish singer Omar Faruk Tekbilek (on the album Alif), Jamshied Sharifi (on A Prayer for the Soul of Layla) and Tulku (on Season of Souls, compiled on the Buddha Bar series).
Discography
Solo:
Jostojoo: Forever Seeking (Banyan Tree, 2007)
A Window to Color (2011)
The Road (Innova, 2015)
With Axiom of Choice:
Beyond Denial (Faray-e Enkaar) (X Dot 25, 1996)
Niya Yesh (Narada World, 2000)
Unfolding (Goshayesh) (Narada World, 2002)