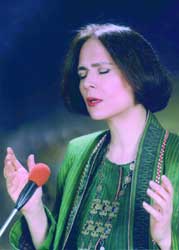 Parisa is one of Iran's foremost female vocalists. She is a master of the radif or classical Persian repertoire. This traditional musical style is based on improvisation within a modal structure known as dastgah. The performer's skill rests in the extemporaneous vocal ornamentation of this basic melodic framework.
Born Fatemeh Vaezi, Parisa started her musical work under the supervision of the renowned Persian Radif teacher, Mahmoud Karimi, with whom she studied for ten years at the National Music Conservatory in Tehran. Two years through her pupilage, she was invited by the Ministry of Culture to work in the National Radio and Television Broadcasting.
In 1969 she began her singing career under the auspices of the Ministry of Culture and Art, performing throughout Iran, Afghanistan and Pakistan. She spent much of her early career fighting against bureaucratic obstacles and a misreprentation as a pop singer. The Ministry had misjudged her and gave her semi-pop tunes to perform. Eventually, a fierce crusade in the media
eventually allowed her to work with other traditional artists. Gradually, Parisa was seen at more traditional concerts, finally performing at the Shiraz Arts Festival during its last years.
Parisa's musical talent truly bloomed when she was introduced to "The Iranian Center for Preservation and Dissimination of Music". Her recordings of this period show a tremendous depth and growth in her musical understanding.
In recent years, Parisa has been successfully concentrating on teaching and guiding young talents. Since 1995, she has been performing in collaboration with Hossein Omoumi in various festivals and concerts around the world. Parisa currently lives in Iran.
Discography:
Parisa (Caltex, 1996)
Baz Amadam (Playasound, 1996)
Tale of Love: Esfahan (Quartertone Records, 1999)
Sham-I-Vafa – Candle of Faith (Amity Records, 2002)
Tale of Love II – Nava (Quartertone Records, 2004)