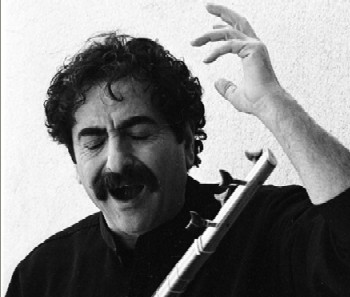 Shahram Nazeri is one of Iran's most popular singers and a master of the Persian classical and Sufi repertoires. He was born to a musical Kurdish family in Kermanshah, Western Iran, in 1950 and joined Sufi ensembles at the age of eight. When he was eleven, he sang on Iranian television and started to study the traditional repertoire or radif. He became attracted to the mysteries of Sufism and its music and literature through the works of Mowlana Jelaladin Rumi, Sheikh Attar and others.
His teachers include some of the most important exponents of Persian music in this century – Abdollah Davami, Nourali Boroumand, and Mahmood Karimi. Since the provinces of Kermanshah and Kurdistan in western Iran are dominated with Sufism and the Dervish spinning around music, he showed great interest in this kind of traditional music, mostly accompanied by the poems of the Iranian transcendental poets like Rumi. His gentle voice as well as his unique style drew the attention of millions of Iranians in a very short time.
He has several marvelous works such as Gol e Sad Barg (the one-hundred-leaf-flower), Yadegar e doust (the friend's memoir), Seda ye Sokhan e Eshgh (the sound of Love's Word), Shour Angiz (Joy Giver), and many others that impress any listener. For sure, he is one of those at the top of Persian transcendental music. Shahram Nazeri, one of Iran?s most popular singers, is known for his mastery of the Persian classical, Sufi and Kurdish repertoires. Called ?the Persian nightingale,? he has appeared with Iran?s leading ensembles and is acknowledged for his deeply soulful performances.
He has won many prizes and has sung with the leading ensembles of Iran, Sheyda and Aref. His performances in Europe, the Middle East, and North America have been acclaimed for their poetry and virtuosity. He has dozens of recordings to his credit.
Partial discography:
Les Maitres De La Musique Traditionnelle Vol. 3 ‎(Ocora, 1992)
Nowruz – Traditional & Classic Music ‎(Network Medien, 1995)
Shoor Angiz (Caltex Records, 1996)
Mystified – Poetry of Rumi: Sufi Music of Iran (Quartertone Records, 1997)
Through Eternity ‎(Sounds True, 1999)
Shahram Nazeri and The Dastan Group (Long Distance, 2001)
Voice of Endearment (Kereshmeh Records, 2001)
Loulian (Quartertone Records, 2006)
The Passion of Rumi (Quartertone Productions, 2007)
The Book of Austerity (Quartertone Records, 2007)
The Book Of Austerity ‎(Meshkat, 2008)
Rumi Symphony Project – Cycle I – Untold ‎(Sony Classical, 2014)