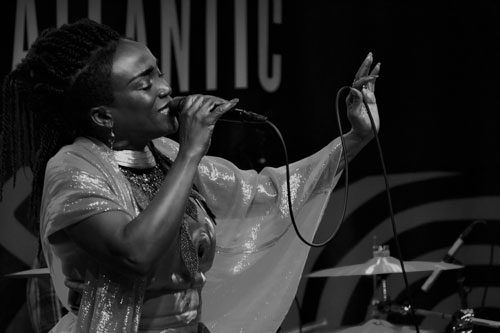 Emeline Michel is oene the leading female vocalists from Haiti. A captivating performer, versatile vocalist, accomplished dancer, songwriter and producer. She has recorded and appeared on concert stages throughout the Caribbean, Europe, Canada and Africa for the past 15 years. Singing both in French and Haitian Creole, her CDs Douvanjou ka leve (May the Sun Rise), Pa gen manti nan sa (There's No Doubt), Rhum &Flamme (Rum &Flame), Tout Mon Temps (All My Time), The Very Best, and Ban'm pase (Let Me Pass) catapulted her to international acclaim.
Emeline Michel is beloved by Haitians for combining traditional rhythms with social, political and inspirational content. She is a member of a new generation of Haitian musicians which also includes guitarist/vocalist Beethova Obas and the bands Boukman Eksperyans and Boukan Ginen. In contrast to most contemporary Haitian music, this new wave of artists emphasize complex themes, conscious lyrics, and a broad palette of musical styles, including the native Haitian compas and rara along with jazz, rock, bossa nova and samba.
Born in Gonaives, Haiti, her first experience in music was singing gospel music at the local church. After completing her education, Emeline accepted an opportunity to study at the Detroit Jazz Center and returned to Haiti as a professional musician. Emeline soon released her first album Douvanjou ka leve (May the Sun Rise) which featured the hit "Plezi Mize" (Pleasure in Misery) written by Beethova Obas.
Subsequent releases "Tankou melodi"(Like a Melody) and "Flanm" (Flame) established her as one of the top artists in Haiti and the French Antilles (the nearby islands of Martinique and Guadeloupe) and she was soon hailed as the "new goddess of Creole music".
Relocating to France, she became a leading musical icon, performing at venues such as the Jazz Festival of Nice and Theatre de la Ville, making numerous appearances on French television and gracing the covers of many fashion and culture magazines.
From her base in France, Emeline's work quickly spread throughout the french-speaking world, including Belgium, Africa, French Antilles, French Guiana and Quebec. From the album Tout Mon Temps (All My Time) came her international smash hit "A-K-I-K-O". While set to an infectious dance groove, the song call's for Haiti to look past the political turmoil that has recently gripped the nation and to return to a time of innocence and joy.
After signing to a Montreal record label she began a high profile five years as one of the leading young female vocalists working in Quebec and a regular act for Canadian festivals, radio and television. In 1996, she released the album Ban'm Pase (Let Me Pass), a CD which showcased her developing talents as a mature writer and producer. This huge-selling and influential release featured the international hits "Ban'm Pase" and "Mwen bezwen" (I Need You), fully incorporated her jazz/blues/samba influences, and secured her position as one of the leading songwriters in the Haitian Creole language.
After being signed with several record labels in France, Canada and the U.S., Emeline formed her own production company (Production Cheval De Feu) in 1999 to gain full control of her career and artistic vision. Soon after she began writing a series of new songs that reflected her core inspiration – Haitian soul & roots with a world music influence – and embarked on a musical quest that would bare rich fruit as the new CD, Cordes et Ame.
Michel is currently based in New York City, where she runs her own production company, Production Cheval de Feu.
Discography:
Douvanjou Ka Leve ‎(Shap Musique, 1987)
Emeline 2 ‎(Shap Musique, 1988)
Flanm Cobalt (1989)
Pa Gen Manti Nan Sa (Geronimo Records, 1990)
Tout Mon Temps (Cobalt, 1991)
Rhum & Flamme (Air Musik, 1993)
Ban'M Pasé ‎(Antilles Mizik, 1996)
Cordes Et Ame ‎(Production Cheval De Feu, 2000)
Rasin Kreyol (Times Square Records, 2004)
Reine De Coeur ‎(Emeline Michel, 2008)
Quintessence ‎(Emeline Michel, 2013)
Gratitude – Live In Paris ‎(Aztec Musique, 2015)