For six days in a row, Duke Performances presented a series of concerts last week called Black Atlantic. The program brought to Durham, North Carolina, superb examples of African music and artists from the African diaspora. Duke Performances staged the concerts at two venues outside of Duke University to bring the music closer to the community: Motorco Music Hall and the Carolina Theatre.
The first Black Atlantic concert took place on Monday, March 26th, at Motorco. It featured traditional bachata artist Joan Soriano from the Dominican Republic. It was unmistakably a seductive dance event, with various dance instructors and practitioners enjoying and dancing to Soriano's songs. A sizable group of Dominicans and other Latin Americans joined the party.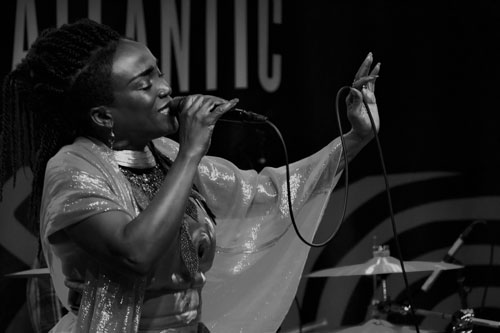 The second performance, on Tuesday, March 27th presented acclaimed Haitian vocalist Emeline Michel at Motorco. Her style combines jazz and pop and her drummer incorporated addictive Haitian beats.
Ned Sublette, a well-known American composer, musician, record producer, musicologist, author and founder of Qbadisc, who attended the first concerts, said: "On the second night of the festival the super-sharp, utterly genuine Emeline Michel, freshly arrived from Haiti, played with a tight, professional 4-piece (including guitarist Dominic James) and an internationalized personal vision rooted in her home town of Gonaïves, with an overlay of music study in Detroit and a breadth of experience in various world cities. I've heard her music from her first album going forward, but I'd never had the chance to meet her; what a thrill. The Haitian public in North Carolina brought their shot of love to the room."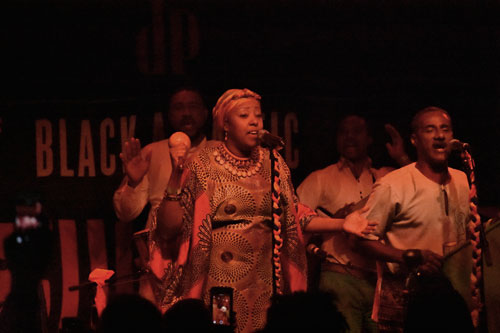 The concert on Wednesday, March 28th, featured Betsayda Machado and La Parranda El Clavo from Venezuela in the packed-out Motorco Music Hall. This Afro-Venezuelan ensemble of singers, drummers and dancers brought Venezuelan pride to a large group of compatriots who attended the event. Durham-based Venezuelan author and actor Miguel Chirinos provided details about the ensemble: "This group is originally from a town called El Clavo, Miranda State in northwestern Venezuela. Their music is based on percussion, especially the Barlovento drums; it's typical music from the coastal towns of the country.
Talking with Betsayda, she told me that they have been making music for over 30 years and the music is the accompaniment during the processions of San Juan Bautista [Saint John the Baptist], patron of the Afro-Venezuelan community. In addition to participating in the different religious festivities, they had the opportunity to record their first CD, which includes their main compositions and which they recorded "under a mango tree". They are also making a documentary where they will tell the story of the town El Clavo, its people and its music!"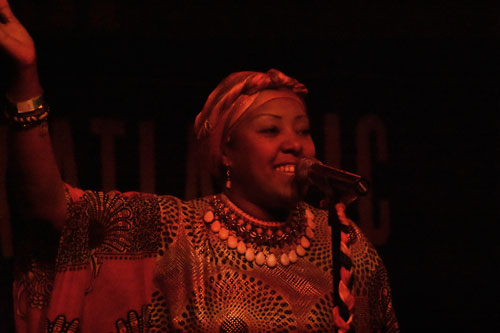 Ned Sublette articulated the following: "I expected to enjoy it, but didn't know how rave-about-it good it would turn out to be.
Machado is a strong frontwoman, and the ensemble is first-rate. Their well-composed show was a model of how to work with traditional acoustic instruments in a percussion-based concert setting. Carrying a lot of instruments around on tour is troublesome and expensive, but they did it. This show included an Afro-Venezuelan instrument, the quitiplas [a set of bamboo sticks played vertically], that you never get to hear outside of Venezuela, as well as the furro (or furruco, a friction drum) energetically holding down the bass, along with a variety of drums. The voices of the group – five men and three women, all beautifully dressed – authoritatively affirmed melodies in well-tuned multi-part harmony, in hypnotic countertime with the drums, giving the group its own polyrhythmic texture. The longer it went on, the more the room got caught up in it.
Bad-ass Durham conguera Beverly Botsford got up with them for a hot minute, and that sounded good to me, too. It was all so compelling I couldn't be bothered to go back to the bar to refill my delicious pint of Bell's Porter when it ran out 20 minutes into the set."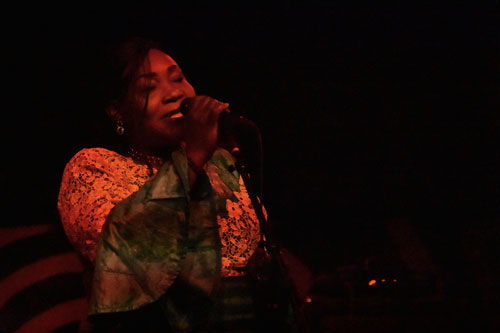 The fourth concert of the series, on Thursday, March 29th at Motorco, presented three of Mali's finest musicians. Three jelis (griots) from well-known families displayed virtuosity and charm to a full house.
Chapel Hill-based producer and singer Bob Haddad, founder of the Music of the World label said: "Trio Da Kali is an extraordinary group of griot musicians from Mali. Fode Lassana Diabate plays his balafon (wooden xylophone) in the most fluid of ways; a true virtuoso. Mamadou Kouyate's bass ngoni (West African lute) is rhythmic, percussive and entrancing, and Hawa Kasse Mady Diabate is the most accomplished female griot vocalist in recent years. Her placement of notes, the way she shapes her improvisations, and the way she quavers her voice, are truly outstanding. Together, these three musicians create a sound that is inspiring, evocative, mesmerizing and uplifting."
The last concert at the Motorco venue, on Friday, March 30th, highlighted the music of the Garifuna community. In this case, it was the best known Garifuna artist at this time, Aurelio Martinez, from Honduras. He delivered an exciting set of songs promoting peace and rights for the Garifuna people.
The final Black Atlantic show took place on Saturday, March 31st at a much larger venue, the Carolina Theatre in downtown Durham. Flamenco vocalist Diego El Cigala presented his latest project, a collaboration with salsa musicians. Soleir Gordon-Shaefer, host and producer of La Tertulia con Solangel on WHUP in Hillsborough said: "He's one of my favorites. I totally enjoyed the concert, it was more than I expected since he not only promoted his Indestructible CD, but also sang other songs that were requested. The performance of the chorus and the musicians was tremendous, especially the pianist. It was a magical night with the audience's euphoria."
To learn more about Diego El Cigala's performance, read TJ Nelson's full review of the concert: Romance, Passion and Vigorous Salsa: Diego El Cigala at the Carolina Theatre.
Aaron Greenwald, executive director of Duke Performances, revealed to World Music Central that the intention is to continue the Black Atlantic series next year. We are already looking forward to more of this superb series.