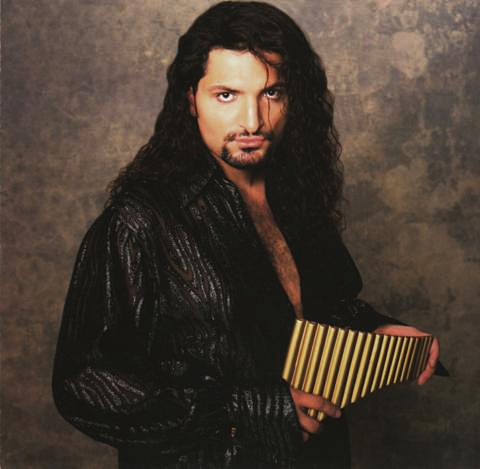 Damian Draghici – Born in Bucharest, into one of the most distinguished musical families with a tradition in music for over seven generations, Damian first began to play the cymbalom (hand dulcimer), then the piano, bass, drums and accordion at an age when most us are first learning to speak. When he was still too young to play standard woodwind instruments, a small pan-flute was created especially for him.
Damian carried on the family tradition and became a master of the pan-flute. By the age of ten, he had won five times consecutively, the first prize of the National Festival of Romania. He was only twelve when he started to collaborate with famous musicians and bandleaders. By the age of fourteen, he had "broken the ice" being able to perform live on TV, the G major Concert for Flute by W. A. Mozart and Suite in B minor for Flute, by J. S. Bach.
He developed new techniques to expand the versatility of this very unique instrument, being able to perform and control different styles of music on this very ancient instrument such as: World Music, Classical, Jazz, Avant-garde, New Age and other styles.
Damian started recording as a sideman and a leader at the very young age of fifteen, being a member of the National Romanian Radio Broadcasting Orchestra, from which he started to perform and toured within the Romanian music industry. Soon he was nicknamed "Speed of Light" because of his virtuosity.
His talent led him to play with famous musicians and orchestra from around the world including: London Philharmonic Orchestra, London Festival Orchestra, Slovak Chamber Orchestra, Bucharest Symphony Orchestra and "Camerata" Chamber Orchestra. He also performed at more than a hundred World Music and Jazz Festivals in almost every country in Europe and played with musicians such as: Paul Winter, Howard Levy, Glen Velez, Omar Faruk Tekbilek, Karen Briggs, George Garzone, Jamey Haddad, Sabri Brothers, Alan Dargin, Gary Thomas, Eugene Friesen, Randy Crafton and John Lockwood.
His artistic qualities are of a world premier class, musical themes and aspects of his performance represent a contemporary artist with genius inspirations. A virtuoso pan-flute player, his interpretative art is characterized with naturalness, sensibility, variety of nuance and the attention paid to balance the substance of musicality and virtuosity.
A full scholarship from Berklee College of Music brought Damian to the USA, giving him the opportunity to increase his knowledge and introduce the pan-flute to the world of jazz and having the honor of being the first pan-flute player in the history of music holding a Bachelor of Music degree on this instrument. A recording artist with European divisions of Sony and other record labels, he has already released fourteen CD's.
In November 2001, Damian made a triumphant return to his homeland to perform to an audience of 72,000 at the Centru Civic in Bucharest. The moonlit, 7,000 room government palace (commissioned ten years earlier by Ceausescu) formed a dramatic backdrop for the concert he created to "give three hours of happiness to my people and show them you can succeed if you really want something badly enough."
Discography:
Damian Draghici & The London Philharmonic Orchestra Play The Music Of Andrew Lloyd Webber (Movieplay Music, 1997)
Damian (1997)
Romanian Gypsy Panflute Virtuoso (Lyrichord, 1999)
Damian's Fire (EMI, 2004)
The American Dream (Century Jazz Records, 2016)