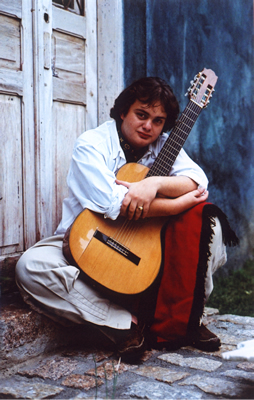 Yamandu Costa was born in Passo Fundo, Rio Grande do Sul, Brazil in 1980. There, he began his guitar studies with his father Algacir Costa, band leader of "Os Fronteiriços", when he was 7 years old. Later, he perfected his technique with Lucio Yanel, Argentine virtuoso who was then living in Brazil.
Until the age of 15, Yamandu's only music school was the folk music from the south of Brazil, Argentina and Uruguay. Nevertheless, after he heard Radam?s Gnatall's work, he decided to get in contact with the music of other renowned Brazilian musicians, such as Baden Powell, Tom Jobim, Raphael Rabello, among others. When he was 17, he played for the first time in Sao Paulo at "Circuito Cultural Banco do Brasil" (BB Cultural Tour). The event was produced by "Estudio Tom Brazil" (Tom Brazil studio), and from then on he was recognized as one of the most gifted guitar players of Brazil.
Considered by some one of the greatest geniuses of Brazilian music of all times, Yamandu deserves the highest praise. Whenever he is on stage, he fills with joy the most select audience since his impressive performance shows the deep intimacy between Yamandu and his guitar.
Yamandu is a guitar player, composer and arranger that does not fit into a single music style, yet he creates his own when he combines all of them playing his 7-string guitar. Yamandu Costa's diverse styles include chorinho, bossa nova, milonga, tango, samba and chamamé.
Discography:
Dois Tempos, with Lúcio Yanel (Bagual Produções, 2000)
Yamandu (Eldorado, 2001)
Yamandu ao Vivo (Bagual Produções, 2003)
El Negro Del Blanco, with Paulo Moura (Biscoito Fino, 2004)
Brasileirinho (Rob Digital, 2005)
Tokyo Session (Koala Records, 2006)
Lida (Biscoito Fino, 2007)
Lado B, with Dominguinhos (Biscoito Fino, 2007)
Ida e Volta (GHA Records, 2007)
Mafuá (Biscoito Fino, 2008)
Yamandu Costa e Rogério Caetano (2011)
Live, with Hamilton de Holanda (Adventure Music, 2011)
Continente (Biscoito Fino, 2013)
Tocata à Amizade (Biscoito Fino, 2015)
DVDs:
Música do Brasil Vol.I (2005)
Yamandu Costa ao Vivo (2005)