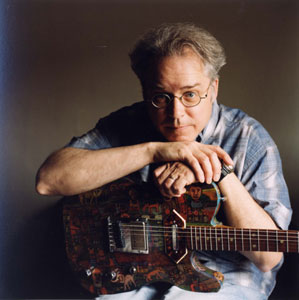 In a career that spans more than 20 years and numerous recordings, guitarist, composer and bandleader. Frisell's Nonesuch discography includes 16 albums, ranging from original Buster Keaton film scores to covers of music by Charles Ives, Stephen Foster, Bob Dylan and Madonna (Have a Little Faith); collaborations with Jim Keltner and Viktor Krauss (Gone, Just Like a Train and Good Dog, Happy Man); a disc of eleven jazz standards performed in duo with pianist Fred Hersch (Songs We Know); and a first-ever solo guitar album, Ghost Town.
In addition to his work as soloist and bandleader, Frisell has established himself as one of the most sought-after collaborators in contemporary music. He has contributed to the work of such diverse artists as Elvis Costello, Burt Bacharach, Ron Carter, Ginger Baker, Gavin Bryars, Jerry Douglas, Marianne Faithfull, Robin Holcomb, Wayne Horvitz, Paul Motian, David Sylvian, William S. Burroughs, Hal Willner and John Zorn, among others.
Bill Frisell was born in Baltimore and grew up in Denver, playing clarinet in his high school band and discovering his love for the guitar through his exposure to pop music on the radio. His great enthusiasm for the Chicago blues 'particularly the music of B.B. King and Paul Butterfield ' led to his complex affinity for contemporary American music. Frisell studied at the University of Northern Colorado and at the Berklee College of Music in Boston. In 1978 he spent a year composing in Belgium and then moved to New York City, where he played a critical role in the foundation and widespread acceptance of the downtown new music scene. In 1989, Frisell moved to Seattle, where he continues to make his home.
Bill Frisell made a national television appearance in 1997 on Sessions at West 54th. That same year, his 1996 recording Quartet won the Deutsche Schallplattenpreis, the German equivalent of a Grammy away. In 1998, Frisell's recording Nashville won the Downbeat Critics Poll for "Album of the Year," and in 1998 and 1999 he received both a Critics Award and an Industry Award in the category of "Best Guitarist" in the Annual Jazz Awards, sponsored by the Knitting Factory and the Jazz Journalists Association.
From 1999 through the Summer of 21 Frisell toured extensively with the New Quartet. He was also involved in a 1999 collaboration with Elvis Costello and Burt Bacharach, The Sweetest Punch, which was released by Universal Classics. He has been busy in recent years composing and recording music for such films as "Finding Forrester", "Million Dollar Hotel", "American Hollow" and "Psycho" as well as numerous stage, television and radio productions. In addition, he's been on the road periodically with his trio featuring bassist Tony Scherr and drummer Kenny Wollesen.
In October of 21, Nonesuch released Frisell's self-titled trio record with jazz legends Dave Holland and Elvin Jones, a reworking of a number of Frisell's most enduring compositions along with a couple of standards. It followed the January 21 release of Blues Dream, the debut recording of Frisell's Septet. In many ways it represented a culmination of the strands running through several of his preceding Nonesuch releases, combining the homespun lyricism of Frisell's previous records with the expanded tonal palette and harmonic sophistication afforded by a larger group, something he has explored as far back as his first Nonesuch recording, Before We Were Born.
Frisell collaborated with visual artist Jim Woodring (album cover illustrations from Gone, Just Like a Train, and Bill Frisell with Dave Holland and Elvin Jones) on a performance piece entitled "Mysterio Simpatico." The event, featuring Woodring's artwork, and Frisell's trio music with violinist Scheinman and trumpeter Ron Miles, premiered at St. Ann's Warehouse in Brooklyn in June 22.
The Willies, Frisell's sixteenth Nonesuch recording, was released in June, 22. Featuring Frisell on electric and acoustic guitars and loops, Danny Barnes (Bad Livers) on banjo and guitar and Keith Lowe (Fiona Apple, David Sylvian, and Wayne Horvitz's Zony Mash) on bass, the album sets out to explore Frisell's inimitable and modern conceptions of bluegrass and country blues. The collection features eight traditional offerings including "Cluck Old Hen" and "Cold, Cold Heart" as well as eight original compositions.
Frisell's encounters with Malian musicians like singer and guitarist Boubacar Traore and percussionist Sidiki Camara, who has played with many of Mali's most renowned performers, have left him eager to further explore the commonalities of African and American roots musics.
The Intercontinentals is a band Bill Frisell formed in 2001 which made its performance debut at Seattle's Earshot Jazz Festival that fall. The self-titled album The Intercontinentals features the Brazilian composer, singer, guitarist and percussionist Vinicius Cantuaria; Greek-Macedonian musician Christos Govetas on ud, bouzouki and vocals; and Mali's Sidiki Camera on percussion and vocals, as well as subsequently added musicians Greg Leisz on pedal steel and various slide guitars and violinist Jenny Scheinman. It is an album that combines Frisell's own brand of American roots music and his inimitable improvisational style with the influences of Brazilian, Greek and Malian sounds. Frisell, in talking about this collaboration, has said, "With this group I've been finding all kinds of new musical connections. It's been a challenge and an inspiration."
In addition to Frisell's ongoing performance and collaborative recording activities, he was honored at London's Barbican Theatre with "An Evening with Bill Frisell", where he performed with The Intercontinentals, plus special guests Djelimady Tounkara, the celebrated guitarist from Mali, and Eliza Carthy, the young singer and violinist from the UK.
Frisell was also commissioned to write and record a musical response to the paintings of Gerhard Richter, to accompany a book and exhibit celebrating Richter's acclaimed 858 series. The resulting CD-length piece includes performances by Frisell with Jenny Scheinman (violin), Eyvind Kang (viola) and Hank Roberts (cello). Frisell also accepted an invitation from Gerard Mortier to be Artistic Director of the "Century of Song" series as part of the Ruhr Trienniale Arts Festival in Germany for the 23/24 season.
Unspeakable (Nonesuch, 2004) featured Frisell's long-time rhythm section of Tony Scherr and Kenny Wollesen, percussionist Don Alias, horn arrangements by Steven Bernstein, and Frisell's string arrangement for the 858 strings of Jenny Scheinman, Eyvind Kang and Hank Roberts. It won a Grammy award in 2005 for Best Contemporary Jazz recording.
The double live album East/West included Frisell's two working trios. "West" featured Bill's trio with Viktor Krauss and Kenny Wollesen and was recorded at Yoshi's in Oakland. "East" features Frisell's other working trio with Tony Scherr and Kenny Wollesen. It was recorded at the Village Vanguard in New York City.
The album, Bill Frisell, Ron Carter, Paul Motian (Nonesuch), is a collaboration with two musicians whom Bill considers to be true mentors and inspirations, and represented a personal milestone for him. "To hear Paul and Ron play together was a dream come true for me. I knew they had worked together a little bit in the 6's and was sure they would reconnect in a big way. During the sessions I was so mesmerized listening to them, most of the time I wasn't even aware that I was playing too! I wanted the album to be live, all of us playing in a room. It was recorded quickly, with no rehearsal,"said Frisell "In high school I heard Wes Montgomery's Bumpin'on Sunset. This was the first solo I learned to play on the guitar. The floodgates were opened and soon I was listening to Miles, Eric Dolphy, Jim Hall, Kenny Burrell, Sonny Rollins, Herbie, Wayne, Tony, Sam Rivers, Freddie Hubbard, McCoy, etc. This music changed my life. Ron Carter is the thread that runs through all of it, since he played with all those guys. It's awesome to think about." He continued, "I first had the chance to meet and play with Ron on Joey Baron's albums, Down Home and We'll Soon Find Out. He then invited me to play on his album Orfeu. We've done some gigs with Joey's band and also some duo gigs at the Blue Note Club in New York. He's been so supportive of my music and me. I wrote a tune for him, "Ron Carter" on my Blues Dream album. The bass line has only two notes.
"Paul Motian is my musical father. There's no way to put into just a few words the impact he has had on me. He helped me find my musical voice. In 1968, I heard him play live for the first time with Charles Lloyd's band. So, just as I was discovering Ron's music I also found Paul's with Bill Evans, Paul Bley, Lennie Tristano, etc. In 1981, Paul was looking for a guitar player and Pat Metheny recommended me. Paul called and invited me to come to his apartment and play with bassist Marc Johnson. Bill Evans had recently passed away and they were reminiscing about their time spent with him. The first song we played together that day was My Man's Gone Now.' We've been playing together ever since."
History, Mystery (Nonesuch, 2008) featured an octet of strings, horns and rhythm section with some of his closest music collaborator: Jenny Scheinman (violin), Eyvind Kang, (viola), Hank Roberts (cello), Ron Miles (cornet), Greg Tardy (clarinet and tenor saxophone), Tony Scherr (bass), and Kenny Wollesen (drums). History, Mystery featured new Frisell compositions as well as some of his arrangements of favorite pieces by other songwriters, ranging from soul pioneer Sam Cooke to jazzmen Thelonious Monk and Lee Konitz. The original compositions on the album were born from and inspired by collaborations with visual artist and fellow Seattle resident Jim Woodring.
Album producer Townsend said, "History, Mystery explores a fuller palette of orchestral colors and timbres than for any project Bill has done before. Thematic elements recur throughout the album, furthering its symphonic sensibility."
The Best of Bill Frisell, Vol 1: Folk Songs was the first in a series of compilations, this one drawn from Frisell's catalog spotlighting his idiosyncratic excursions into country and traditional folk. The album features an impressive lineup: Bill Frisell, electric and acoustic guitars, loops, music boxes; Viktor Krauss, bass; Jim Keltner, drums, percussion;Danny Barnes, banjo, acoustic guitar, bass harmonica, pump organ; Keith Lowe, bass; Jerry Douglas, dobro; Greg Leisz, pedal steel, lap steel, National steel guitar, mandolin, Weissenborn; Dobro, Scheerhorn resonator guitar; Wayne Horvitz, organ, piano, samples; Ry Cooder, electric and Ripley guitar; Kermit Driscoll, bass; Joey Baron, drums; David Piltch, bass; Kenny Wollesen, drums, percussion.
The album Disfarmer was inspired by iconic photographer Mike Disfarmer. The multimedia project Disfarmer Project featured Frisell, lap steel guitar player Greg Leisz and violinist Jenny Scheinman, plus slides of Disfarmer's photos, displayed on screens. The piece premiered on March 3,27, at the Wexner Center, on the campus of Ohio State University. The score was subsequently recorded in Seattle and Nashville, produced by Frisell's longtime collaborator Lee Townsend and also featured Viktor Krauss on bass. Along with Frisell's original compositions, he included versions of Arthur Crudup's "That's Alright Mama"and Hank Williams Sr.'s "I Can't Help It (If I'm Still in Love with You)".
In his liner notes, Frisell, who took a driving trip to Heber Springs to learn more about the area where Disfarmer worked, said, "Of course I was blown away when I saw his photos for the first time and started to learn a little about his life. What a fantastic story … I kept thinking about the many other unsung and misunderstood artists who never had the recognition they deserved during their own time: Vermeer, Van Gogh, Charles Ives, Henry Darger, etc. … I try to picture what went on in Disfarmer's mind. How did he really feel about the people in this town? What was he thinking? What did he see? We'll never know, but as I write the music, I'd like to imagine it coming from his point of view. The sound of him looking through the lens."
After 22 years of a productive relationship with Nonesuch Records dating from the late 1980s, Frisell signed an agreement with the Savoy Label Group. His first album for the label,Beautiful Dreamers featured a trio with Eyvind Kang on viola and Rudy Royston on drums. The repertory included Frisell originals as well as interpretations of classic songs "It's Nobody's Fault But Mine", "Tea for Two", "Goin'Out of My Head", "Keep on the Sunnyside"and a stirring rendition of Benny Goodman's "Benny's Bugle".
Frisell's second album for Savoy Jazz,Sign of Life, with his 858 Quartet featured Jenny Scheinman (violin), Eyvind Kang (viola) and Hank Roberts (cello). This time, Frisell explored chamber-group dynamics and interplay on a set of all-Frisell original material.
In 2011, Frisell pull together an ensemble consisting of Greg Leisz (guitars), Jenny Scheinman (violin), Tony Scherr (bass) and Kenny Wollesen (drums) to record his versions of the classic songs of John Lennon. A fan of the Beatles since the age of 13, Frisell was asked to put together a performance in honor of Lennon as part of a special event in Paris. The arrangements and interpretations were recorded and appear on the album titled All We Are Saying… (Savoy Jazz).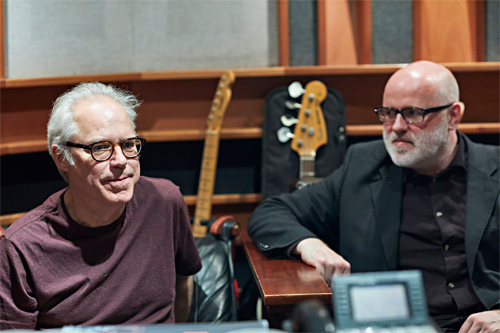 In 2018, Frisell recorded Strata, the first ever collaboration with Icelandic bassist Skúli Sverrisson. "I almost feel like I didn't even play on this record. Compositionally, what Skúli brought is so amazing. There wasn't anything for me to do, everything was there already. So natural for me to fall into–so effortless. What Skúli chose to play and what he wrote–he built this structure that didn't have anything blocking me but it was holding me up the whole time. It feels like we've known each other longer that we have. And it feels like the start of something," said Frisell.
Also in 2018, Frisell appeared in Lebroba, an album from drummer Andrew Cyrille.
In 2019, Frisell released Epistrophy, a collaboration with bassist Thomas Morgan, recorded at New York City's Village Vanguard.
Discography:
In Line (ECM, 1983)
Rambler (ECM, 1984)
Lookout for Hope (ECM, 1987)
Before We Were Born (Nonesuch, 1989)
Is That You? (Nonesuch, 199)
Where in the World? (Nonesuch, 1991)
Have a Little Faith (Nonesuch, 1992)
This Land (Nonesuch, 1994)
Go West: Music for the Films of Buster Keaton (Nonesuch, 1995)
The High Sign/One Week: Music for the Films of Buster Keaton (Nonesuch, 1995)
Live (Gramavision, 1995)
Quartet (Nonesuch, 1996)
Nashville (Nonesuch, 1997)
Gone, Just Like a Train (Nonesuch, 1998)
Good Dog, Happy Man (Nonesuch, 1999)
The Sweetest Punch, The New Songs of Elvis Costello & Burt Bacharach (Decca, 1999)
Ghost Town (Nonesuch, 2000)
Blues Dream (Nonesuch, 2001)
With Dave Holland and Elvin Jones (Nonesuch, 2001)
The Willies (Nonesuch, 2002)
The Intercontinentals (Nonesuch, 2003)
Unspeakable (Nonesuch, 2004)
Richter 858 (Songlines, 2005)
East/West (Nonesuch, 2005)
Further East/Further West (Nonesuch, 25)
Bill Frisell, Ron Carter, Paul Motian (Nonesuch, 26)
Floratone (Blue Note, 2007)
History, Mystery (Nonesuch, 2008)
Disfarmer (Nonesuch, 2009)
Beautiful Dreamers (Savoy Label Group, 2010)
Lagrimas Mexicanas with Vinicius Cantuaria (E1 Music/Naive, 2011)
Sign of Life: Music for 858 Quartet (Savoy Label Group, 2011)
All We Are Saying.. Frisell Plays Lennon (Savoy Label Group, 2011)
Floratone II (Savoy Jazz, 2012)
Big Sur (Okeh, 2013)
Guitar in the Space Age! (Okeh, 2014)
When You Wish Upon a Star (Okeh, 2016)
Small Town (Okeh, 2016)
Music IS (Okeh, 2018), Strata, with Skúli Sverrisson (Nouvelle, 2018)
Lebroba, with Andrew Cyrille (ECM, 2018)
Epistrophy, with Thomas Morgan (ECM, 2019)