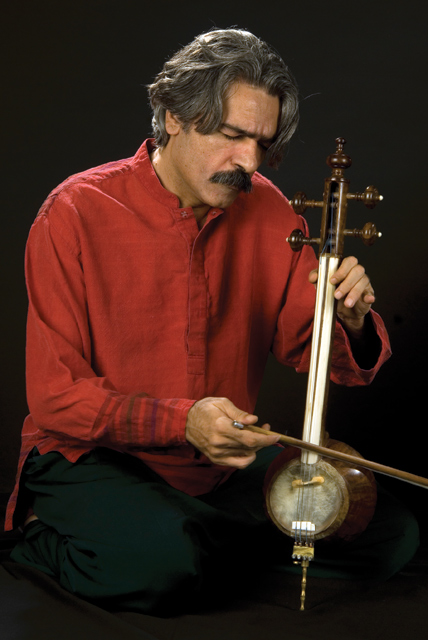 Kamancheh virtuoso and composer Kayhan Kalhor was born in Tehran (Iran). He began his musical studies at the age of seven. Kayhan Kalhor performed with the prestigious National Orchestra of Radio and Television of Iran and the Shayda Ensemble of the Chavosh Cultural Center while still a teenager.
Deeply devoted to the Iranian classical repertoire (radif), Kayhan Kalhor was further inspired to study regional folkloric traditions, which added additional dimensions to his improvisations and acted as springboards for cross-cultural explorations.
Since then, Kalhor has performed and recorded with Iran's greatest instrumentalists and singers, including Mohammad Reza Shajarian and Shahram Nazeri, and toured the world as a soloist.
He co-founded the Dastan, Ghazal: Persian & Indian Improvisations, and Masters of Persian Music ensembles and has appeared with the New York Philharmonic and the Orchestre National de Lyon.
He was the featured soloist on the soundtrack of Francis Ford Coppola's Youth Without Youth, a score on which he collaborated with Osvaldo Golijov.
Kayhan Kalhor is an original member of Yo-Yo Ma's acclaimed Silk Road Ensemble and his works are heard on all of the ensemble's albums.
Discography
* Eastern Apertures (1995)
* Lost Songs of the Silk Road, Ghazal (Shanachie, 1997)
* Scattering Stars Like Dust (Traditional Crossroads, 1998)
* As Night Falls on the Silk Road, with Ghazal (Shanachie, 1998)
* Through Eternity, with Dastan (Sounds True, 1999)
* Moon Rise over the Silk Road, with Ghazal (Shanachie, 2000)
* Night Silence Desert, with Mohammed Reza Shajarian (Traditional Crossroads, 2000)
* Caravan, with Kronos Quartet (Nonesuch Records, 2000)
* Silk Road Journeys, with Yo-Yo Ma and Silk Road Ensemble (Sony Classical, 2001)
* Without You, with Masters of Persian Music (World Village, 2002)
* The Rain, with Ghazal(ECM, 2003)
* Beyond the Horizon, Silk Road Ensemble (Sony Classical, 2004)
* In the Mirror of the Sky, with Ali Akbar Moradi (World Village, 2004)
* Faryad, with Masters of Persian Music (World Village, 2005)
* The Wind, with Erdal Erzincan (ECM, 2006)
* New Impossibilities, with Silk Road Ensemble (Sony Classical, 2007)
* Silent City (World Village, 2008)
* Off the Map, with Silk Road Ensemble (2009)
* Voices of the Shades, Madjid Khaladj (2011)
* I Will Not Stand Alone, with Ali Bahrami Fard (World Village, 2012)
* Kula Kulluk Yakişir Mi, with Erdal Erzincan (2013)
* Sing me home, with Silk Road Ensemble (Sony Masterworks, 2016)
* Hawiniyaz (Harmonia mundi, 2016)
Video
The Music of Strangers, with Silk Road Ensemble (2016)
Web site: www.kayhankalhor.net