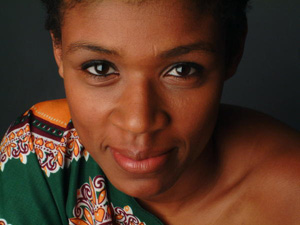 Carmen Souza was born in Lisbon within a family of Cape Verdeans. Very young, she experienced the "Sodade" feeling of missing someone with the long absence of her father due to his work at sea. She grew up in a mixed environment of Creole, the Cape Verde dialect her parents spoke at home, and Portuguese, always surrounded by the Cape Verdean way of life.
Carmen started singing professionally at the age of 17 in a Lusophone Gospel Choir named Shout and since then she participated in several projects from Funky to Soul, Jazz and World music, with whom she toured extensively. Her compositions were also included in albums released by projects in where she participated has singer. Being a strong spiritual person, Carmen always saw music has her mission and felt privilege to have the opportunity to express herself trough it, working hard everyday to deserve that opportunity.
Musicians like Luis Morais, Theo Pas'cal, Joe Zawinul, Herbie Hancock, etc, are definitely the ones that truly inspire her evolution and search for a personal style different from anything you ever heard. Theo Pas'cal, her producer and mentor and one of the best bass players in Portugal, was the one to discover her talent and introduce Carmen to Jazz, Fusion and other contemporary sounds that really influenced her.
In 2003, together with Theo, Carmen started working in the compositions that would be included in her debut album Ess e nha Cabo Verde. Carmen wanted to create a new and unique sound in her ancestors' dialect, Creole, that would mix traditional African and Cape Verde rhythms like Batuke, Morna, Cola djon, and others, with her jazz/soul contemporary influences, in a totally intimate and acoustic vibe, different from the traditional festive environment of Cape verdean sounds.
Ess e nha Cabo Verde, released in 2005, received great reviews from the Cape Verde press not only in Cape Verde but also in USA and was considered by the critics as a reflection of Cape Verde music evolution. The album made it to playlists internationally and is also distributed in several countries.
Carmen's international live debut happened in July 2005 during the mythic Womad Festival in Reading, UK by the hand of BBC3 on their "World on your street stage.
Discography:
Ess e nha Cabo Verde
Protegid ‎(Galileo Music, 2010)
Verdade ‎(Galileo Music, 2010)
London Acoustic Set ‎(Galileo Music, 2011)
Kachupada ‎(Galileo Music, 2012)
Live At Lagny Jazz Festival ‎(Galileo Music, 2013)
Epistola ‎(Galileo Music, 2015)
Creology ‎(Galileo Music, 2017)