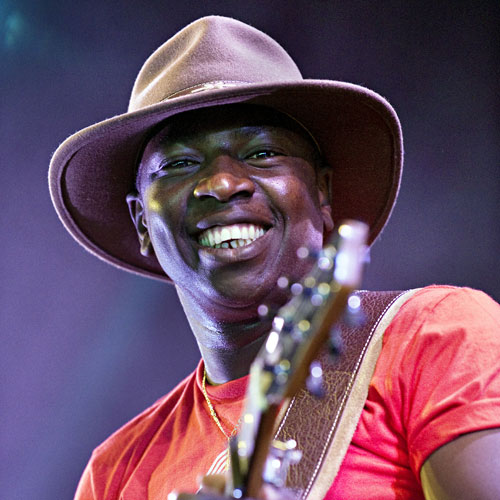 Growing up, Vieux played calabash (a unique-sounding dried gourd drum used in Mali) and other percussion, but his father didn't want Vieux to face the same struggles he had as a musician, and discouraged him from following the same path. The Toure family comes from a noble lineage, in a land where musicians usually come from a musical caste.
Ali went against his own family's societal role to become a musician and suffered as a result; first struggling to make a living at home in Mali, and then getting cheated by a French producer early in his career. The BBC reported that when he won his first Grammy award, Ali chose not to travel to the United States to collect his prize, saying: "I don't know what a Grammy means but if someone has something for me, they can come and give it to me here in Niafunke, where I was singing when nobody knew me."
Ali wanted his son to become a soldier. But Vieux secretly took up the guitar behind closed doors. He enrolled in the Arts Institute in Bamako, the same institution where Habib Koite and many other Malian musicians of note studied. When Ali realized Vieux was not going to give up on playing guitar, he enlisted his good friend Toumani Diabate as Vieux's advisor.
When young North American producer Eric Herman of Modiba Productions expressed interest in recording Vieux he had to seek permission from Diabate, the senior Toure, and other community elders. Once Diabate and Toure heard Vieux's initial recordings, they realized they had underestimated the younger Toure's virtuosity. "Toumani looked shocked," recalls Herman. "Vieux turned to me and said "See, nobody knows I can play music like this." I knew" and it didn't seem to be a secret that he is a really dynamic guitarist. But among the elders who he needed to be respectful of, he was humble and hiding it."
"Though my father initially resisted my playing music," explained Vieux, "once he saw that it was truly my ambition and my calling, he was at my side; and he stayed there until the end."
Discography:
Vieux Farka Touré ‎(World Village, 2006)
Vieux Farka Touré Remixed: UFOs Over Bamako (Modiba, 2007)
Fondo ‎(Six Degrees Records, 2009)
Live (Six Degrees Records, 2010)
The Secret ‎(Six Degrees Records, 2011)
Mon Pays (Six Degrees Records, 2013)
Touristes ‎(Six Degrees Records, 2015)
Samba (Six Degrees Records, 2017)