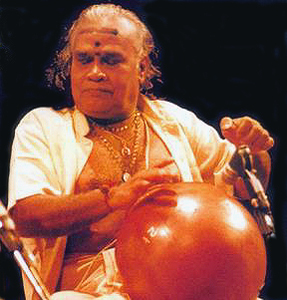 Vikku Vinayakram, one of India's finest ghatam (a large clay pot percussion instrument) players, studied with his father, Harihara Sharma. He is in great demand in India and has accompanied nearly all the leading South Indian musicians and vocalists like Semmangudi Srinivasa Iyer, MS Subbulakshmi, Balamurali Krishna, Bhimsen Joshi, Hariprasad Chaurasia and VG Jog.
Vinayakram became known in the West as a member of the group Shakti, an innovative acoustic jazz/Indian fusion band with guitarist John McLaughlin, violinist L. Shankar, and Zakir Hussain on tabla. He has also played under the direction of Zubin Mehta and shared the stage with internationally acclaimed musicians like Herbie Hancock, Peter Gabriel and Larry Corryell.
In 1991 he participated in the recording of Planet Drum as a music composer and co-producer together with The Grateful Dead's drummer, Mickey Hart. The album featured other world class percussionists like Zakir Hussain and Airto Moreira. Planet Drum won the Grammy for Best World Music Album in 1991.
The extraordinary speed and precision of his duets with tabla virtuoso Zakir Hussain and mrdangam player Ramnad V. Raghavan have captivated listeners throughout the world. Vikku devotes much of his time to teaching at his own ghatam school in Madras. In addition to touring with Shankar and Zakir Hussain and accompanying other musicians, he has performed with J.G. Laya in an experimental group that includes pianists and other percussionists.
Recently Vinayakram was featured in a percussion show called Drums of India, along with Zakir Hussain, sarangi maestro Ustad Sultan Khan, drummers Sivamani and Taufiq Qureshi and enchanted the audience with his dazzling performance.
Vinayakram has won numerous prestigious awards in India. He has many recordings to his credit and is also the author of several books on percussion in Tamil and English. Vinayakram forged and led the group "The Mahaperiyava," an ensemble of young, talented artists from Chennai.
Discography:
A Handful of Beauty, with Shakti (1976)
Natural Elements (1977)
Planet Drum (1991)
Mysterium Tremendum (2012)