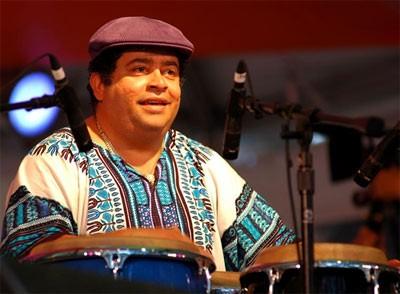 Widely acknowledged among the greatest congueros of his generation, Giovanni Hidalgo was born in San Juan, Puerto Rico in 1963, first taking up the drums five years later
The son of the noted percussionist Jose "Manengue" Hidalgo, he was educated in Latin rhythms from childhood onward, and as a teen regularly walked to local gigs with his congas strapped to his back. He soon caught the attention of the legendary Dizzy Gillespie, touring in his United Nations All-Star Orchestra for four years.
Hidalgo also became a noted session player, recording with Freddie Hubbard, Paul Simon and Mickey Hart's Planet Drum project. In 1992, he recorded his debut solo LP, Villa Hidalgo; Worldwide followed a year later.
1997's Hands of Rhythm collaboration with pianist Michel Camilo, earned Hidalgo a Grammy nomination in the Best Latin Jazz Album category.
His Greatest Hits collection followed the next year.
Berklee College of Music presented an honorary doctor of music degree to Giovanni Hidalgo in 2010. Hidalgo taught in Berklee's percussion department from 1992-1996.
Partial Discography
* Villa Hidalgo (Messidor, 1992)
* Worldwide (RMM Records, 1993)
* Time Shifter (RMM Records, 1995)
* Hands of Rhythm, with Michel Camilo (RMM Records, 1997)
* The Best of Giovanni Hidalgo (RMM records, 1998)
* Conga Kings, with the Conga Kings (Chesky Records, 2000)
* Jazz Descargas, with the Conga Kings (Chesky Records, 2001)
* Silver Gold (Incipit, 2009)
* Mano a Mano, with Michel Camilo (Emarcy, 2011)
* Mysterium Tremendum, with Mickey Hart Band (360° Productions, 2012)
Videos
* Conga Masters: Changuito and Giovanni Duets (Alfred Publishing, 1995)
* Conga Virtuoso: Giovanni Hidalgo (Warner Brothers Classics, 2005)