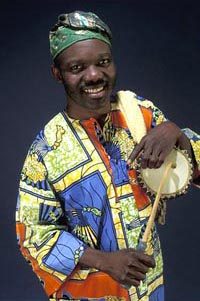 Sikiru Adepoju was born November 10, 1950 in Nigeria. American percussionist Mickey Hart calls him "the Mozart of the talking drum." Sikiru Adepoju first came to the focus of the American music scene through his involvement with the Grammy Award-winning Planet Drum project. His technical mastery of the talking drum and various indigenous percussion instruments (dundun, gudugudu, gome, omele, sekere, etc.) have gained acceptance and respect among music listeners of all tastes.
Born in Eruwa, Western Nigeria, Sikiru grew up in a "talking drum family" where he began his tutelage of the instrument at his father's side (Chief Ayanleke Adepoju), at the age of six. He then went on to tour and record several albums with renowned Nigerian Juju artist Chief Ebenezer Obey and his Inter- Reformers Band. Obey, who called his personal style the miliki (enjoyment) sound, began where noted juju entertainer I.K. Diaro left off. Obey drew in such Western elements as multiple guitars and a Hawaiian steel guitar soloist, adding them to the traditional rhythmic foundation.
After he moved to the San Francisco Bay Area in 1985, Sikiru soon met world-renowned percussionist and leading African music artist Babatunde Olatunji. Shortly after meeting Olatunji, Sikiru joined his Drums of Passion ensemble and began a 17 year period with the group, recording and touring extensively throughout the world, until a year before Olatunji's death in 2003.
While a member of Olatunji's Drums of Passion, Sikiru recorded with Stevie Wonder and Carlos Santana, and performed with the Grateful Dead, where he met Grateful Dead drummer Mickey Hart. It was after meeting Hart that Sikiru also joined Hart's Planet Drum ensemble. In 1991 the group's debut release, Planet Drum, hit #1 on the Billboard World Music Chart, remaining there for 26 weeks, and went on to receive a Grammy Award for Best World Music Album. In 2002 Sikiru joined Mickey Hart's Bembe Orisha (party to the spirits).
Adepoju formed various bands, including The Honeymakers, Afrika Heartbeat, Sikiru Adepoju & Heart Beat, and Limbo Rhythm Project.
Discography
The Apocalypse Now Sessions, with Rhythm Devils (Rykodisc, 1979)
Juju Jubilee, with Ebenezer Obey (1985)
Drums of Passion: The Invocation, with Babatunde Olatunji (1988)
Drums of Passion: The Beat, with Babatunde Olatunji (Rykodisc, 1989)
At the Edge, with Mickey Hart (Rykodisc, 1990)
Planet Drum, with Mickey Hart (Rykodisc, 1991)
Jungle Fever, with Stevie Wonder (1991)
Drums of Passion: Celebrate Freedom, Justice & Peace, with Babatunde Olatunji (1993)
Big Bang, percussion anthology with various artists (Ellipsis Arts, 1995)
Mickey Hart's Mystery Box, with Mickey Hart (1996)
Watchfire, with Pete Sears & Friends (1996)
Supralingua, with Mickey Hart and Planet Drum (Rykodisc, 1998)
Honour Simplicity, Respect the Flow, with Kai Eckhardt (2000)
The Best of Mickey Hart: Over the Edge and Back, with Mickey Hart (2002)
Ijinle Ilu, with Afrika Heartbeat (2003)
Life After That, with Airto Moreira (2003)
Soup's on Fire, with Jana Herzen (2003)
21 July 2004 San Francisco Ca: On The Road, with The String Cheese Incident (2004)
Circle of Drums, with Babatunde Olatunji (2005)
Ara Kenge, with Bola Abimbola (2005)
Global Drum Project, with Mickey Hart, Zakir Hussain, Giovanni Hidalgo (Shout! Factory, 2008)
The Rhythm Devils Concert Experience, with Rhythm Devils (2009)
Mysterium Tremendum, with Mickey Hart Band (2012)
Superorganism, with Mickey Hart Band (2013)
RAMU, with Mickey Hart (Verve, 2017)