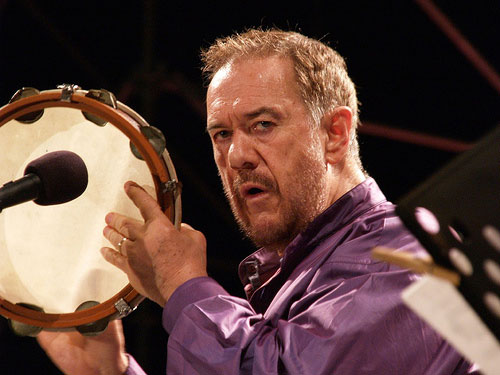 Airto Moreira's work with Miles Davis during the Bitches Brew era and leadership in the jazz fusion genre (Weather Report, Return To Forever) places Airto in the forefront of percussionists worldwide. Airto's influence is so powerful that in 1972 Downbeat Magazine added a "percussion" category to its readers' and critics' polls, and Airto was voted 'best' in that category many times.
Winner of the 1996 Drum Magazine Award for best percussion and Jazz Central Station's 1996 Best Percussionist Award, Airto keeps on winning fans worldwide. His formidable expertise in Brazilian cultures and percussion instruments make Airto's performances educational and dazzling.
Airto Guimorva Moreira was born the son of a spiritual healer in the South Brazilian town of Itaiopolis, Santa Catarina, in 1941. His love for music manifested itself at an early age. He was drumming before he could even walk, beating his fists on the floor whenever he heard music with a strong beat on the radio, which prompted his worried mother to take medical advice on his condition. By the time he was six – and winner of numerous music contests – Airto was given his first radio show on Saturday afternoons, which became a big hit in the South Brazilian town of Curitiba.
At 13, Airto sang in the band Jazz Estrela and at 16 he moved to Sao Paulo to further his career as a professional jazz drummer. By 1963, Airto had moved to Rio de Janeiro, where he became an integral part of two of the most successful bands at the time. At the age of 22, he founded the legendary Quarteto Novo (The New Quartet) with Hermeto Pascoal, Theofilo De Barros and Heraldo Do Monte. Mixing Brazilian protest songs with jazz, the band sometimes backed a fiery young vocalist called Flora Purim and – after some initial clashes – she and Airto discovered that they had more in common than music and formed what has proven to be an enduring alliance.
In 1967, at the instigation of his wife and in order to escape the then repressive military regime in Brazil, the couple moved to North America, initially to Los Angeles and then to New York, where Flora worked in a restaurant called Lost & Found. Between paid gigs, Airto would play there for his dinner. Although he could barely speak English, Airto quickly found himself fluent in the universal musical language shared by Reggie Workman, Cedar Walton and bassist Walter Booker (father of Krishna Booker aka The Factor). It was through Booker that Airto began to meet the greats…people like Cannonball Adderley, Lee Morgan and Joe Zawinul.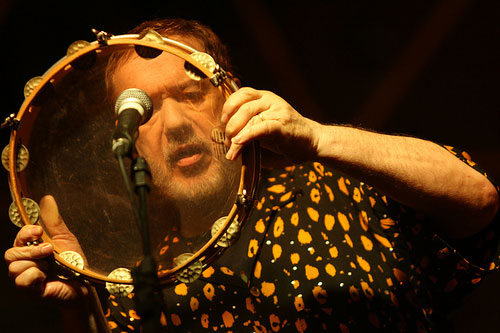 Zawinul recommended Airto to Miles Davis for a recording session in 1970 and he was soon invited to join the historic 'electric' band – perpetrators of the seminal 'Bitches Brew'. This included such other jazz icons as Wayne Shorter, Dave Holland, Jack DeJohnette, Chick Corea, and later, John McLaughlin and Keith Jarrett. Airto remained with the Davis group for two years and appears on several classic Miles' sets of the era, including Live At The Fillmore and Live/Evil. He shared drumming duties on the first Weather Report album with Alphonse Mouzon, then left to form Return To Forever with Chick Corea, Stanley Clarke and Joe Farrell in late 1971.
Having recorded two classic albums (Return To Forever and Light As A Feather) featuring the vocal pyrotechnics of Flora Purim, Chick Corea then pursued a more electric direction and Airto and Flora went their own way. For the past two decades, the couple have been practically inseparable, touring and recording together constantly.
1991 saw the release of the album Planet Drum, the culmination of a long-standing friendship with Grateful Dead drummer Mickey Hart, whom he first met when the Miles Davis band opened for The Dead at the Fillmore West in 1970. Planet Drum topped Billboard's World Music Chart for almost six months and won the first Grammy ever presented in the category of Best World Music Recording. In the same year Airto also won the Grammy for Best Live Jazz Recording for his collaboration with the late Dizzie Gillespie on the album United Nations Orchestra. The following year, Airto again joined forces with Mickey Hart to produce the groundbreaking album of healing music The Other Side Of This.
In 1993 Airto and Flora joined the brilliant guitarist Jose Neto and the keyboards and reeds wizard Gary Meek to form Fourth World, a highly danceable Latin jazz/rock band whose first album (BW030) marked Airto's first involvement with B&W Music. Also released is Killer Bees (BW041) recorded with a freeform supergroup, The Gods of Jazz, featuring old friends Stanley Clarke, Chick Corea, Mark Egan, Hiram Bullock and Herbie Hancock as well as Flora and Gary Meek. Airto is also the prime mover of the Outernational Meltdown project. With Flora, Jose Neto and others, Airto was integral to Fourth World. The final statement of the group Fourth World is Last Journey to the Fourth World (BW2122).
Although Airto and Flora Purim traveled the world constantly for many years, Airto's love for the music and the people of his native Brazil takes him back every year to visit old friends and relatives, and to pay respects to his spiritual guides and elders. Airto's commitment to spiritualism started at an early age and for the past ten years he has been practicing Spiritual Healing Music: the opening of new channels in communication between artists and audience, or in Airto's words, "creating a true feeling of friendship and enjoyment that is so needed in the world right now". His lifelong interest in spirituality led him to record The Other Side of This, an exploration into the healing power of music.
Airto continues to explore what he calls 'Creative Percussion'. In concert, he uses a large table on rolling legs that holds a variety of strange implements. While some of these are actual percussion instruments, other items might be included as a metal rack from a refrigerator, rubber hoses, wooden shoes, springs attached to tin cans, and shakers made from beer cans. He is always on the lookout for anything that can make a unique sound and it is this attitude that will always keep Airto creative and young at heart.
His vocals, unique percussion style and the work of percussionists from other drumming traditions has attracted an audience interested in world music. It would be no exaggeration to say that Airto has influenced the direction of modern jazz worldwide. He has won numerous awards from TV and music magazines and enjoys an unparalleled audience, as a solo artist and with Flora Purim and with his numerous collaborations with artists such as Quincy Jones, Herbie Hancock and Paul Simon. Recently he even and played on MTV Unplugged with The Smashing Pumpkins as well as contributing to movie soundtracks including The Exorcist, The Last Tango in Paris, King of the Gypsies and Apocalypse Now.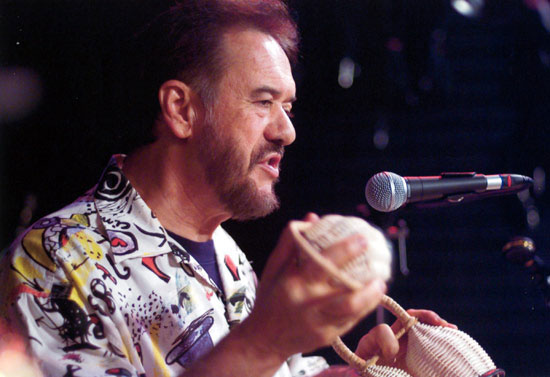 Airto has collaborated on numerous projects for M.E.L.T.2000 including the Outernational Meltdown series, Byron Wallen's albums, the famous Kon'ko Man album by Madala Kunene, Flora Purim's albums and Jose Neto's album Neto. With such a wealth of musical experience and creative production of other artists and indigenous music it is not surprising that that his peers look to him as a master and pioneer of percussion.
Airto has produced and been involved in many breakthrough cross-cultural musical projects. Tribal Ethno Dance (BW092) was an opportunity to produce his own interpretation to what were basic field recordings, using simple recording equipment in rural settings. 'The Wire' described it as "the real African deal, but with a twist". Sources came from DZM projects, Khoisan bushmen, the split-tone singers of Ladyfrere and a group of traditional (Sangoma) healers led by Suzan Hendricks.
Revenge of the Killer Bees (ELM8012) is a project that revisits the seminal Airto Moreira and The Gods of Jazz album Killer Bees (BW041) and is a fresh interpretation under the direction of Tony Thorpe and features remixes of Airto's collaborations with various jazz icons, Millenium style. The spectacular recording Code:Brasil, Target: Recife is the result of Airto's recent project involving three local bands from Recife, in Northeastern Brazil, representing the various styles and rhythms of that region.
Discography:
Natural Feelings (Buddah, 1970)
Seeds on the Ground (Buddah, 1971)
Free (CTI, 1972)
Fingers (CTI, 1973)
Virgin Land (CTI, 1974)
Identity (1975)
Promises of the Sun (Arista, 1976)
I'm Fine, How Are You? (Warner Music Japan, 1977)
Touching You… Touching Me (Warner Music Japan, 1979)
Misa Espiritual (1984)
Three-way Mirror (1985)
Latino (1986)
Samba De Flora (Montuno, 1988)
Struck by Lightning (Venture, 1989)
Killer Bees (B&W Music, 1989)
The Other Side of This (Rykodisc, 1992)
Revenge of the Killer Bees, remix of Killer Bees (Electric Melt, 1993)
Homeless (MELT 2000, 1999)
Code (1999)
Life After That (2003)
Aluê (Selo Sesc, 2017)