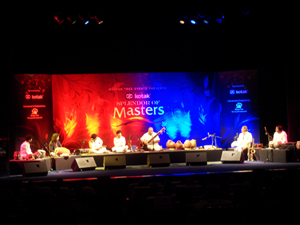 One of the more unusual lineups of Indian classical musicians took the audience to new heights of excellence and entertainment: the concert series "Splendour of Masters," held in a number of cities including Bangalore.
Organised by Mumbai-based Banyan Tree Events, the concert tour lineup this year included Ustad Shujaat Khan (sitar – Hindustani), Ganesh-Kumaresh brothers (violin – Carnatic), Vidwan Vikku Vinayakram (ghatam – Carnatic), George Brooks (saxophone), along with Satish Kumar (mridangam), Amit Choubey (tabla) and Ojas Adhiya (percussion).
While some of the musicians have played with the others, this was the first time that sitarist Shujaat Khan played with the violinist brothers Ganesh and Kumaresh. And this is definitely the first time I have heard Western jazz (saxophone) along with Carnatic violin and Hindustani sitar!
Banyan Tree Events also organises an annual international festival of Sufi music across Indian cities, called Ruhaniyat. It has drawn musicians from India, Pakistan, Bulgaria, Turkey, and Egypt; more on that in another review.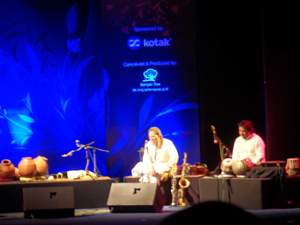 The evening performance on January 26th was extra special since it was also India's Republic Day. Over a thousand music fans gathered in the landmark violin-shaped Chowdiah Hall for a spectacular three-hour two-set performance of Indian classical music.
Ghatam legend Vidwan Vikku Vinayakram and his grandson Swaminathan joined the group in the second set; the first set was dominated by terrific interchanges between sitar, saxophone, and violin duets.
The musicians shared a strong rapport with one another and a jovial interaction with the audience. "We should thank the sponsors for showing that there is more to India than just cricket," joked Shujaat Khan. "Thank you for indulging me as I live out my fantasy and play with these amazing lineup of musicians who I admire so much," said George Brooks.
The opening piece in Raga Shankarabharanam, (Carnatic equivalent of Hindustani Bhilaval) set in adi talam of 8 beats (tri taal of 16 beats in Hindustani), was followed by a George Brooks composition in honour of jazz pianist McCoy Tyner. Brooks also dedicated the song to his father (who just turned 85) and his son (who just turned 16). The riffs were then picked up by Shujaat Khan and extended by Ganesh-Kumaresh. There were high-energy jugalbandis (call-response interchanges) between the violins and mridangam, in rupak talam.
The next piece featured Raga Bhupali in tri taal (adi talam), with the violinists having a lot of fun at the high notes and drawing loud applause. Shujaat Khan then sang in ghazal style for the next piece, followed by a solo in Raga Bhilaval. The haunting lines were picked up by Kumaresh on the violin and the piece climbed in energy to a fast-paced table solo.
After a short break, the second set began with ghatam maestro Vikku Vinayakram, accompanied by his grandson Swaminathan. Swaminathan led with konakkol and bol singing (percussion language), and played the kanjira with flair. With Swaminathan singing shlokas for Ganesha and Chandrashekara, Vikku Vinayakram played tala chakra on a set of five ghatams, each tuned to a different note (sa re ga ma pa in ascending order), and threw one up in the air in a fine show at the end of his performance.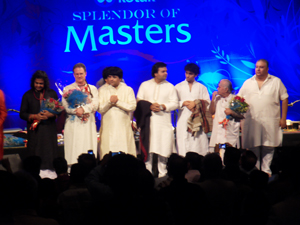 They involved the audience with clapping in some of their three pieces, but soon left the audience behind as they explored the intricacies of 5-beat, 8-beat and 9-and-a-half beat cycles! The maestro-grandson performance drew a standing ovation. I first heard Vikku Vinayakram playing the ghatam during a 1984 performance of Shakti in Bombay, and it was an honour and delight to meet him backstage after the Bangalore performance.
All the musicians appeared on stage after the percussion set, and it was a once-in-a-lifetime treat to see all the nine masters create new musical textures. George Brooks again delivered a solo with shimmering ascending and descending notes on tenor and soprano saxophones, showcasing his mastery of jazz and understanding of Indian classical music. Brothers Ganesh-Kumaresh showcased a beautiful duet in Raga Bhimpalasi (a famous composition of Shri Thyagaraja, "Nagumomu ganaleni").
The last piece began with Shujaat Khan in ghazal style. He also had a special sitar-ghatam jugalbandi with Vikku Vinayakram, and the violinists joined in Raga Khamaj and Baaro Krishnayya, a composition by Kanakadasa (popularised by the late M.L. Vasanthakumari), in the Raga Mand.
The musicians again received a standing ovation, and it would seem inevitable that this lineup receives standing ovations through the rest of their India tour also!
Artiste profiles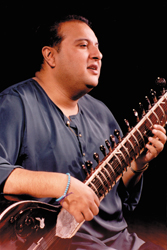 Shujaat Husain Khan belongs to the Imdad Khan gharana (tradition) of the sitar and is the seventh in the unbroken line from his family that has produced many musical masters. His style is known as the gayaki ang, and is imitative of the human voice. He is the son and disciple of sitarist Ustad Vilayat Khan. His musical pedigree continues back through his grandfather, Ustad Inayat Khan; his great-grandfather, Ustad Imdad Khan; and his great-great-grandfather, Ustad Sahebdad Khan.
Shujaat Khan is also known for his exceptional voice, which he uses for singing folk songs, poetry and accompaniment to his sitar, eg. on albums like Hazaron Khwahishen (A Thousand Desires). He has recorded and played extensively around the world. He has more than 100 CD releases on a variety of international labels. His Indo-Persian collaborative venture, the Ghazal Ensemble, produced the album Rain, which was nominated for a Grammy award in 2004.
Ganesh and Kumaresh are brothers who took to performing the Carnatic violin right from their childhood years in Tamil Nadu. Now in their thirties, they have become world-renowned artistes. Trained by their father — artiste Shri Rajagopalan — Ganesh and Kumaresh completed their hundredth stage appearance before the younger brother was ten years of age. They have played with a range of musicians such as John McLaughlin, Trilok Gurtu, Nadaka, Vikku Vinayakram and others.
George Brooks is an American saxophonist and composer and a prominent American voice in Indian jazz fusion. He has performed with jazz and blues greats John McLaughlin, Larry Coryell, Etta James, Kronos Quartet, Anthony Braxton, Albert Collins, Roy Rogers and Clarence "Gatemouth" Brown. George has been hailed for building solid collaborative bridges between the improvisational art of Indian classical music with jazz, Americas' own classical music. He has collaborated with the who's who of Indian Hindustani and Carnatic classical music: Zakir Hussain, Hariprasad Chaurasia, Kala Ramnath, U.Srinivas, Ronu Majumdar, Vikku Vinayakram, A. Sivamani, Shankar Mahadevan and L. Subramanium. See my interview with him, conducted the day after the concert.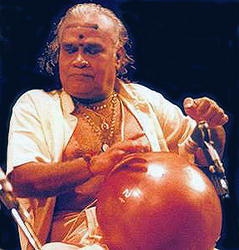 Vikku Vinayakram is a Grammy Award–winning Carnatic Indian classical percussionist. He is credited for popularising the humble ghatam (clay pot) on the national and global music scale. Though almost 70 years old today, his performances continue to break new ground with their energy and innovation. He has accompanied many famous vocalists in Carnatic music such as M. Balamuralikrishna, Madurai Mani Iyer, Semmangudi Srinivasa Iyer, M. S. Subbulakshmi and Maharajapuram Santhanam, among others. In the 1970s he joined fusion supergroup Shakti, with John McLaughlin, L. Shankar and Zakir Hussain. Vinayakram's son V. Selvaganesh is a world-famous percussionist in his own right, and grandson Swaminathan is a public performer as well. Vikku is the first South Indian musician to be awarded the Grammy for Best World Music Album for his participation in Mickey Hart's Planet Drum. The Indian government conferred on him the Padma Shri award.
Author:
Madanmohan Rao
Madanmohan Rao is an author and media consultant from Bangalore, and global correspondent for world music and jazz for World Music Central and Jazzuality. He has written over 15 books on media, management and culture, and is research director for YourStory Media. Madan was formerly World Music Editor at Rave magazine and RJ at WorldSpace, and can be followed on Twitter at @MadanRao.