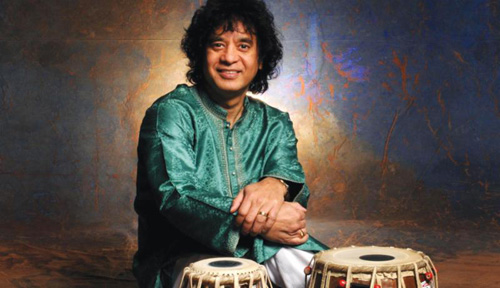 Tabla maestro Zakir Hussain, son of the legendary Ustad Alla Rakha, has built a reputation as one of the finest tabla players in Indian classical music.
Zakir Hussain was born March 9 March, 1951 in Mumbai, India. He began performing as a child prodigy at age 8. In constant demand as an accompanist, he has performed with most of India's greatest musicians and dancers. While he has few equals as a traditional tabla player, he has also been an innovator, bridging the Hindustani and Carnatic traditions by performing with both North and South Indian masters and presenting percussion concerts both as a soloist and with other drummers.
In addition to his dedication to the Indian classical music tradition, Zakir has been a pioneer in introducing the tabla to wider audiences in the West through his collaborations with jazz and rock musicians, and with percussionists from Latin America, Africa and Europe. As a member of the East-West fusion group Shakti, he won critical acclaim for his virtuosity.
Zakir's father, Alla Rakha passed away in February of 2000, but his legacy continues with the Masters of Percussion tours that feature Zakir and two of his brothers (Fazal and Taufiq Qureshi).
Zakir Hussain's 1986 ECM album Making Music was a major statement in the world music arena, with Jan Garbarek, John McLaughlin and bansuri flute genius Hariprasad Chaurasia as contributors.
Zakir Hussain has composed and performed music for various films. He arranged the opening music for the 1996 Summer Olympics in Atlanta.
Hussain has also played on several ECM albums with violinist L. Shankar: Who's to Know, Song for Everyone, Nobody Told Me, M.R.C.S., and Pancha Nadai Pallavi.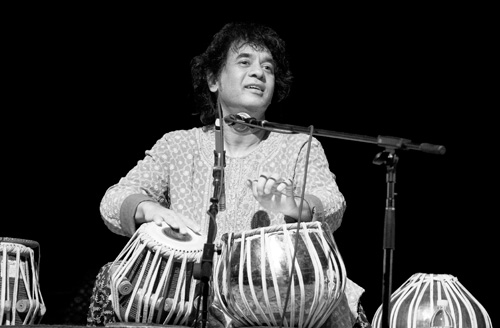 He played with Tabla Beat Science whose high-volume clash of cultures incorporated an ever-shifting cast of percussionists and DJs around a core of Zakir, sarangi player Ustad Sultan Khan and bassist Bill Laswell. Zakir Hussain has also collaborated on music for ballet with Yo-Yo Ma.
In 2007, Zakir was chosen by the government of India to compose an anthem, "Jai Hind," to celebrate India's 60th year of independence.
Zakir has been the recipient of many awards and titles, including Padma Bhushan (2002); Padma Shri (1988); the Sangeet Natak Akademi Award (1991); the 1999 National Heritage Fellowship, this country's highest honor for achievement in the traditional arts; and Grammy Awards for Best World Music Album for Planet Drum (1992) and Global Drum Project (2009) with Mickey Hart, Sikiru Adepoju and Giovanni Hidalgo.
Discography
* Making Music (ECM 1349, 1987)
* Planet Drum, with Mickey Hart (1992)
* Tabla Duet, with Ustad Alla Rakha (Moment Records MR 1001)
* Zakir Hussain & The Rhythm Experience (Moment Records MR 1007, 1994)
* The Best of Shakti with John McLaughlin, L. Shankar and T.H. Vinayakram (Moment Records MR 1011)
* Masters of Percussion with Ustad Alla Rakha, Giovanni Hidalgo, Narada Michael Walden and others (Moment Records MR 1012)
* Magical Moments of Rhythm (1995)
* Essence of Rhythm (1998)
* Supralingua, with Mickey Hart (Rykodisc, 1998)
* The Believer, with Remember Shakti (Polygram, 2000)
* Tala Matrix, with Tabla Beat Science (Palm Pictures, 2000)
* Golden Strings of the Sarode, with Aashish Khan (2001)
* Saturday Night in Bombay, with Remember Shakti (Universal Records, 2001)
* Selects (Moment Records, 2002)
* Summit, with George Brooks (Earth Brothers Music, 2002)
* The Best of Mickey Hart: Over the Edge and Back (2002)
* Live in San Francisco at Stern Grove, with Tabla Beat Science (Palm Pictures, 2002)
* Ustad Mohammad Omar: Virtuoso from Afghanistan (2002)
* Energy (2003)
* Live at Miles Davis Hall, with Remember Shakti (2004)
* Live at 38th Montreux Jazz Festival, with Remember Shakti (2004)
* Punjabi Dhamar (2004)
* Raag Chandrakauns (2004)
* Sangam, with Charles Lloyd (ECM, 2006)
* Soukha (Naive, 2006)
* Rhythmic Impressions of Ustad Zakir Hussain (2006)
* Global Drum Project (Shout Factory, 2007)
* The Melody of Rhythm, with Bela Fleck and Edgar Meyer (eOne, 2009)
* Mysterium Tremendum, with Mickey Hart Band (2012)