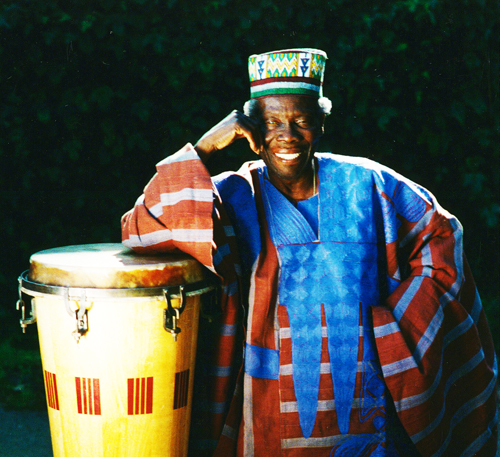 Babatunde Olatunji was one of the 20th century's greatest masters of percussion. A beloved cross-cultural ambassadors, he made an unparalleled contribution in the saga of modern rhythm as he almost single-handedly seeded the sounds of African music into the American mainstream.
Born in 1927 to a Yoruban fishing family in Ajido, Nigeria, Olatunji arrived to the United States in 1950 to study political science at Morehouse College in Atlanta, where as an undergraduate he began performing informally and produced a popular show based on his country's culture and traditions. He continued to play music intermittently during his graduate studies at NYU's School of Public Administration, culminating in a Radio City Music Hall engagement backed by a full orchestra in 1957 – which brought him to the attention of the legendary jazz producer John Hammond at Columbia Records (whose other discoveries included Bob Dylan, Aretha Franklin, and Bruce Springsteen).
Olatunji's debut album, Drums Of Passion, was released in 1959 and was an unprecedented smash hit; selling over five million copies, it was the first record to broadly introduce the sounds of African music to western ears. Early career milestones included that fateful performance at Radio City Music Hall, another at the 1964 New York World's Fair, and national TV appearances on The Tonight Show, The Mike Douglas Show, and The Bell Telephone Hour.
Olatunji's dedication to the preservation and communication of African culture led him to establish his dream – the institute of African Cultural Studies. Headquartered in the heart of Harlem, he made his commitment to education by offering affordable classes in a wide range of cultural subjects to adults and young people – including not only "just plain folks" but also such major cultural icons of the era as Malcolm X and John Coltrane. His expertise in the area of African music and dance led to a diversity of new projects and roles throughout his life: as director of an educational television series; as co-author of the book African Musical Instruments, Their Origins and Use; and as an authoritative consultant for innumerable museum exhibits, media documentaries, and publications. He was active in the Civil Rights movement of the early 1960s, traveling with the Reverend Martin Luther King as a fixture at NAACP gatherings.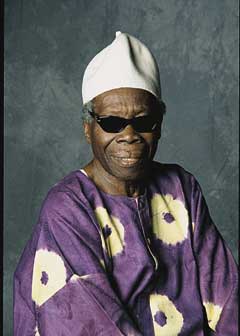 In the late 1980s, Gratefu! Dead percussionist Mickey Hart released the classic Drums Of Passion: The Invocation as part of his groundbreaking The World CD series for the Rykodisc label, followed by a multi-artist collaboration with Olatunji called Drums Of Passion: The Beat. Baba became an integral part of Hart's award-winning At The Edge in 1990, along with jerry Garda and Zakir Hussain, and appeared regularly on tour with the Grateful Dead during the height of their fame and popularity – becoming a seminal influence in the drum circle phenomenon which blossomed from those halcyon days. In 1991, Olatunji and Hart co-founded the pan-global percussion supergroup, Planet Drum (the ensemble included Hart, Olatunji/ Zakir Hussain, Airto Moreira, Flora Purim, Sikiru Adepoju and Vikku Vinayakram) – winning the first-ever Grammy? Award for Best World Music Album, and selling out a national U.S. tour including legendary shows at New York's Carnegie Hall and the historic Wiltern Theater in Los Angeles.
Olatunji penned many original compositions, including scores for both the Broadway and Hollywood productions of Raisin In The Sun. He assisted fellow Morehouse alumnus Bill Lee with the music for She's Cotta Have It, the hit film produced and directed by, and starring, Bill's son Spike.
More recent independent recordings, Celebrate Freedom, Justice, and Peace and Healing Rhythms, Songs and Chants -along with the Grammy?-nominated Love Drum Talk (Chesky Records, 1997) – found Africa's musical ambassador to the west still forging forward with vitality and dedication, despite his advancing age and the increasing pain and debility he endured as a diabetic.
As a faculty member in his final years at both the Esalen Institute in Big Sur, California, and the Omega Institute in Rhinebeck, New York, Olatunji tirelessly pursued his mission of spreading African culture through the teaching of traditional drumming, dance, and chant. He lectured and taught at Universita Degli Studi Ni Napoli (Naples, Italy); Kodo Drum Society (Sado Island, Japan); Tantra Galarie (Interlocken, Switzerland); Frankfurter Ring (Frankfurt, Germany), and the Virginia Museum of Fine Arts (Richmond, Virginia). In 1996, he was named Impresario of the Ghana Dance Ensemble, one of the two national dance companies of Ghana, and for many years led annual workshops at the International Centre for African Music and Dance at Ghana's University of Accra.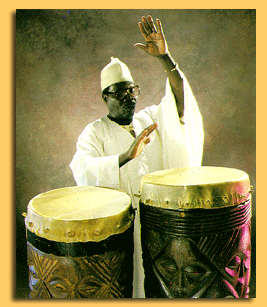 In 1996, he also received an honorary doctorate from Medgar Evers College in Brooklyn, New York for his outstanding and selfless service to the arts
Babatunde Olatunji passed away Sunday, April 6th, 2003, at Esalen Institute, California, with his family by his side.
Discography:
Drums of Passion (Columbia, 1959)
Zungo! (1961)
Flaming Drums (Columbia, 1962)
Olatunji
Drums!, Drums!, Drums! (Roulette, 1964)
Soul Makossa (Paramount, 1973)
Dance to the Beat of My Drum (Bellaphon, 1986)
Drums of Passion: The Invocation (Rykodisc, 1988)
Drums of Passion: The Beat (Rykodisc, 1989)
Drums of Passion: Celebrate Freedom, Justice & Peace (Olatunji, 1993)
Drums of Passion and More (Bear Family, 1994)
Babatunde Olatunji, Healing Rhythms, Songs and Chants (Olatunji, 1995)
Love Drum Talk (Chesky, 1997)
Drums of Passion [Expanded] (2002)
Olatunji Live at Starwood (2003)
Healing Session (Narada, 2003)
Circle of Drums (Chesky, 2005)