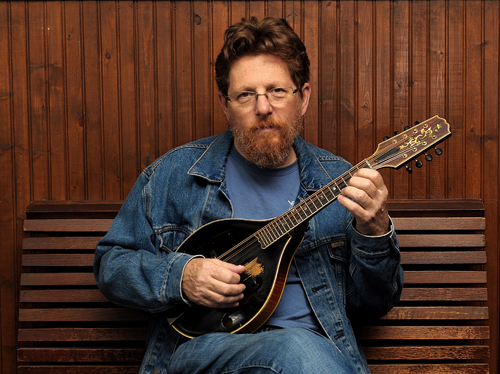 Born in 1954, O'Brien grew up in Wheeling, West Virginia listening to the Benny Goodman and Glenn Miller records played by his parents and a Polish housekeeper's Lawrence Welk recordings. A weekly country music radio show The Saturday Night Jamboree, broadcast from a local theater, sparked a life-long fire in the young O'Brien. During these impressionable days he saw performances by country and rockabilly legends such as Jerry Lee Lewis, Buck Owens, Merle Haggard and Roger Miller.
He got his first guitar at the age of 12 and he played with numerous rock bands in high school. He was steered towards country and bluegrass music by Roger Bland, a banjo-playing patient of a girlfriend's psychiatrist father. A former member of Lester Flatt's band Bland taught O'Brien to play in the three-finger style of Earl Scruggs.
After a year at Colby College in Maine he left school to head west. Tim moved to Boulder, Colorado where he met future Hot Rize band mates, a band which stayed together for 12 years and continues to get together from time to time. Although their initial sound was very traditional, Hot Rize continued to evolve in a more progressive direction. A tremendously popular part of Hot Rize's performances came when the four musicians left the stage changed wardrobe and re-emerged as the western honky tonk group Red Knuckles & The Trailblazers. The joke grew and the group actually recorded several albums under this guise.
O'Brien has also collaborated on several albums with his sister Mollie. They spent most of their later teens apart but sang in church and school choirs together.
O'Brien met Kathy Mattea, who joined him on two tracks from The Crossing, while performing at the Summerlights Festival in Nashville. After Mattea had hits with covers of his songs "Untold Stories" and "Walk The Way The Wind Blows," O'Brien decided to leave Hot Rize to spend more time crafting songs. His songs have since been recorded by The Johnson Mountain Boys, Garth Brooks, Laurie Lewis, The Seldom Scene and The New Grass Revival.
The Crossing released in 1999 was a landmark album that featured Tim O'Brien and other American musicians collaborating with Irish musicians. It was the inevitable next step for Tim O'Brien, a multi-instrumentalist songcrafter and true spearhead of the contemporary bluegrass movement. Like many Irish-Americans, Tim took an interest in his Irish roots tracing lineage back to his great-grandfather Thomas O'Brien from County Cavan who arrived to the United States in 1851.
Tim O'Brien has his own band known as the O'Boys. He also collaborates with songwriter Darrell Scott, old time musicians John Hermann and Dirk Powell, and with the members of New Grange.
In the year 2010 Tim O'Brien was appointed president of the International Bluegrass Music Asssociation (IBMA). That same year a new album in collaboration with Irish musicians came out. Although titled Two Journeys it is also known as The Crossing 2.
Discography:
Hot Rize, with Hot Rize (Flying Fish, 1979)
Radio Boogie, with Hot Rize (Flying Fish, 1981)
Hard Year Blues (Flying Fish, 1984)
Red Knuckles and the Trailblazers, with Hot Rize (1984)
Traditional Ties, with Hot Rize (Sugar Hill 3748 1986)
Untold Stories, with Hot Rize (Sugar Hill, 1987)
Take Me Back (Sugar Hill, 1988)
Take It Home, with Hot Rize (Sugar Hill, 1990)
Odd Man In (Sugar Hill, 1991)
Remember Me (Sugar Hill, 1992)
Oh Boy! O'Boy! (Sugar Hill, 1993)
Away Out On The Mountain (Sugar Hill, 1994)
Rock In My Shoe (Sugar Hill. 1995)
Red On Blonde (Sugar Hill, 1996)
When No One's Around (Sugar Hill, 1997)
The Crossing (Alula Records, 1999)
Real Time with Darrell Scott (Howdy Skies, 2000)
Two Journeys (Howdy Skies, 2001)
So Long of a Journey: Live at the Boulder Theater (Sugar Hill, 2002)
Songs From The Mountain (Howdy Skies, 2002)
Traveler (Sugar Hill, 2003)
Cornbread Nation (Sugar Hill, 2005)
Fiddler's Green (Sugar Hill, 2005)
Chameleon (Howdy Skies, 2008)
Chicken & Egg (Howdy Skies, 2010)
We're Usually A Lot Better Than This (Full Skies, 2012)
Memories & Moments (Full Skies, 2013)
Pompadour (Howdy Skies, 2015)
Where The River Meets the Road (Howdy Skies, 2017)
DVDs
The Mandolin and Bouzouki of Tim O'Brien