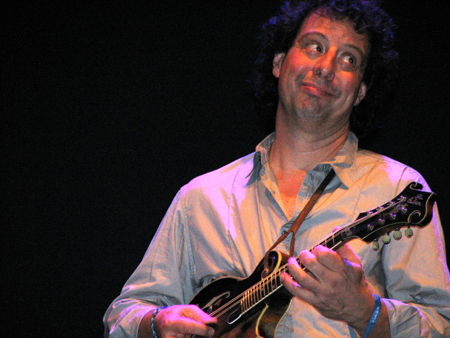 Mike Marshall grew up in Central Florida, where he developed his career playing traditional American music. His interest in many musicals styles however eventually led him to the San Francisco Bay Area to join the original David Grisman Quintet in 1978 at age 19. This band toured and recorded with the legendary jazz violinist Stephan Grappelli, Mark O'Connor and guitarist Tony Rice. They performed on the popular American TV program Johnny Carson Show that same year and toured Europe and Japan and helped set a new standard for American stringband music.
Since then Mike has continued pushing the boundaries of acoustic music and can be heard on hundreds of recordings as a composer featured artist sideman and producer.
Mike is one of the most accomplished and versatile string instrumentalists in American music today. A master on mandolin, guitar, mandocello and violin he has created adventurous instrumental music for over 30 years.
As a teacher, Mike founded a one week mandolin camp for in 2002 with his colleague David Grisman. The Mandolin Symposium takes place the last week of June at U.C. Santa Cruz with over 15 mandolinists and some of of the greatest players/teachers in the world.
Discography:
Gator Strut (Rounder 1987)
Chiaroscuro with Darol Anger (Windham Hill 1990)
Brasil: Duets (Rhino 1996)
Midnight Clear (Acorn 1998)
Short Trip Home with Joshua Bell (Sony 1999)
Wine Country (Menus and Music 2001)
At Home and On the Range (Compass 2002)
Into the Cauldron with Chris Thile (Sugar Hill 2003)
Serenata (Adventure Music 2003)
Mike Marshall & Choro Famoso (Adventure Music 2004)
The Duo with Darol Anger (Rounder Select 2005)
Brazil Duets (Adventure Music 2005)
Live: Duets with Chris Thile (Sugar Hill 2006)
New Words [Novas Palavras] (Adventure Music 2006)
Mike Marshall and Darol Anger with Vasen (Adventure Music 2007)
Woodshop with Darol Anger (Adventure Music 2007)
Mike Marshall's Big Trio with Alex Hargreaves and Paul Kowert (Adventure Music 2009)
Caterina Lichtenberg and Mike Marshall (Adventure Music 2010)
An Adventure 1999-2009 (Adventure Music 2010)
Mike Marshall & The Turtle Island Quartet (Adventure Music 2014)