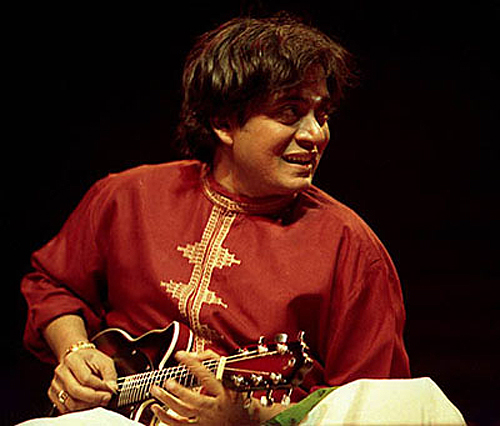 Mandolin maestro U. Srinivas was born on February 28, 1969 in Palakollu, India.
U. Srinivas was among the most significant musicians of Southern India. By the age of 30, U. Srinivas had become a major international musical figure. A member of the current line-up of Shakti, he took the mandolin, an instrument previously unknown in India, to unique classical heights and has become renowned for the strong sense of spirituality and breathtaking virtuosity of his playing.
"I thought that it's common to hear people playing classical music on the violin or veena, so why don't I try something new?" he remembered. "I never dreamed I would become so well known or that the mandolin would become so popular."
"Mandolin" U. Srinivas, drew crowds of up to 10,000.
He recorded a CD of Carnatic compositions by Ilaiyaraaja called Ilaiyaraaja's Classics in Mandolin. In 2008, U Srinivas released ' Samjanitha ' featuring Debashish Bhattacharya (Lap Steel Guitar), John McLaughlin, Zakir Hussain, Sivamani, Vikku Vinaykram, Dominique Piazza Michael Brook, U Rajesh and others.
U Srinivas died on September 19, 2014 in Chennai, India.
Partial discography:
Mandolin – Master U. Srinivas (Magnasound, 1986)
Mandolin Ecstasy (Oriental, 1986)
Magic Mandolin (Chhanda Dhara, 1989)
Music on Mandolin (Super Cassette, 1990)
Double Mandolin (The Master Company, 1991)
Modern Mandolin Maestro (GlobeStyle, 1991)
Trio Mandolin (Koel, 1992)
Mandolin Duets (EMI, 1994)
Prodigy (Koel, 1994)
Rama Sreerama (Real World Records, 1994)
Dream, with Michael Brook (Real World, 1995)
Dawn Raga (Womad, 1996)
Marvels on Mandolin (Magnasound, 1996)
Mandolin (Geethanjali, 1998)
Mystic Raptures (Music Today, 2000)
Remember Shakti: The Believer, with Shakti (Verve/Universal, 2000)
Mandolin Magic (Dunya, 2001)
Gamanashrama (Charsur, 2003)
Sangam: Michael Nyman Meets Indian Masters (WEA, 2003)
Om Nama Shivaya (Sea, 2004)
Five Star (Saregama 2004)
Mandolin Melodies: South Indian Classical Music (Felmay, 2005)
Ragasangamam (Music Today, 2006)
Sahavaadhan (Living 2006)
Samjanitha (Dreyfus Records, 2008)
Chinnanchiru Kiliye (Music Today, 2011)
Sangeet Santaj Vol. 1 & 2 (Music Today, 2011)
Ru-Ba-Ru: A Unique Confluence of Sarangi & Mandolin (Music Today, 2011)
Dikshitar Masterpieces (Music Today, 2011)