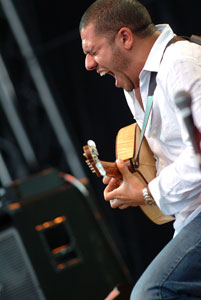 Hamilton de Holanda was born in 1976. He is a gifted virtuoso mandolinist who has revolutionized the mandolin. He developed his own music thorough a polyphonic playing technique, as well as an enriched timbral and percussive palette on his extended range mandolin as he added a low C string for a total of 10 vs. 8. He always speaks of "my instrument, as the name says, is only an instrument to express my gratitude to life, to this moment in time we call now".
Having won many national and international prizes and often acclaimed as the Jimmy Hendrix of the mandolin, his talent went rapidly beyond the borders of Brazil. In December 2001, Hamilton vied with the cream of Brazilian performers of both academic music and improvised music, and won a Brazilian Award the Icatu Music Prize in both popular and erudite disciplines. This earned him a fellowship at the Cite des Arts in Paris until February 2003. Thus, he has built a bridge with the Old Continent, which he has been regularly touring since he returned to Brazil again.
On stage, Hamilton's charismatic and communicative enthusiasm, his flawless playing and his sophisticated harmonic and rhythmic sense make him one of the most remarkable musicians of the new Brazilian generation of performers and composers. He has played with Hermeto Pascoal, John Paul Jones, Cesaria Evora, Seu Jorge, Joao Bosco, Maria Bethania, Ivan Lins, Buena Vista Social Club, Richard Galliano, Richard Bona, Bella Fleck, Gilberto Gil, Michel Legrand, Djavan….to name but a few.
Hamilton de Holanda leads the Hamilton de Holanda Quintet featuring Daniel Santiago on acoustic guitar, Andre Vasconcellos on electric bass, Marcio Bahia on drums, and Gabriel Grossi on the chromatic harmonica. Their producer is Marcos Portinari. The Quintet has just been awarded the most prestigious 2007 Brazilian music award equivalent to Grammy for the best instrumental group while Hamilton de Holanda received the best performer award.
The concept that underpins the Quintet's music making is that diversity in music ought to know no boundaries. Speaking about M?sica Popular Brasileira (MPB), Hamilton de Holanda states "this concert is a homage to the Brazilian people and Brazil's young musicians, that intuitively have been creating a novel way to express their art – the Modern Instrumental Brazilian Music – underpinned by Brazilian inherent features and tradition without loosing sight of current universal themes."
Hamilton de Holanda explains that the young musicians are indeed citizens of the world that bring Brazilian flavor to the universal pot. The concert Brasilianos 2 is homonymous with the CD released recently based on the most notable names in Brazilian instrumental music, as for example, Hermeto Pascoal, Pixinguinha, Baden Powell, Egberto Gismonti, Toninho Horta, Raphael Rabelo among others and with inspiration drawn from world music such as Jazz, Flamenco, Cuban and African. He adds that "most of the songs lend themselves to be executed with the same fluency either by whistling or orchestra, eloquent melodies with rhythm, harmony and improvisation, singularities of sophisticated Brazilian music."
Discography:
Destroçando a Macaxeira, with Dois de Ouro (1997)
A Nova Cara do Velho Choro, with Dois de Ouro (1998)
Luz das Cordas, with Marco Pereira (2000)
Dois de Ouro, with with Fernando César (2000)
Abre Alas (2001)
Brasilianos (Biscoito Fino, 2006)
New Words / Novas palavras, with Mike Marshall (Adventure Music, 2006)
Íntimo (Deckdisk/Adventure Music, 2007)
Contínua Amizade, with with André Mehmari (Deckdisk, 2007)
Brasilianos 2 (Adventure Music, 2008)
De Bandolim a Bandolim, with Joel Nascimento (2009)
Luz da Aurora, with Yamandú Costa (2009)
Sessões com Hamilton de Holanda, with Ensamble Gurrufío (2010)
Esperança – Live in Europe (2010)
Sinfonia Monumental (2010)
Gravações Inéditas (2011)
Delírios e Devaneios(2011)
Gismontipascoal, with André Mehmari (Adventure Music, 2011)
Brasilianos 3 ((Adventure Music, 2011)
O Que Será, with Stefano Bollani (ECM, 2013)
World of Pixinguinha (Adventure Music, 2015)
Trio (2016)
Casa de Bituca – The Music Of Milton Nascimento (Adventure Music, 2017)