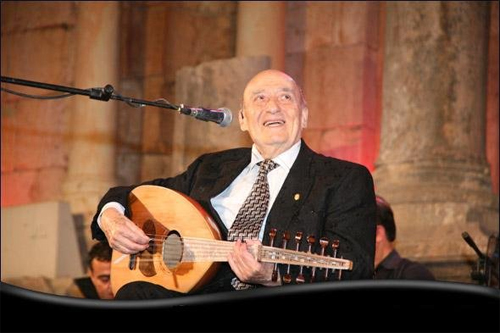 Wadih Al-Safi was one of the most prominent Lebanese and Arabic composer-singers of his time. He was often described as the "Voice of Lebanon" and was responsible for the mark of distinction and popularity of Lebanese music. Al-Safi's name was synonymous with traditional Lebanese folklore.
Born in Lebanon in 1921, in the village of Niha, in the Shouf Valley, Sali grew up listening to the traditional Arabic folklore of the village people. Consequently, he inherited a natural gift for singing the rural sound. Later, in 1938, he moved to Beirut to pursue formal vocal studies at the Lebanese National Conservatory of Music. In the same year, Al-Safi entered a vocal competition sponsored by the Lebanese Broadcasting Network, where he won first place, launching his career in the country and gaining national fame. He then began composing and performing music based on his folklore roots incorporating a new urban sound, which would later be described as the historical urbanization of Lebanese folk music.
Performing this new style throughout the Middle East at festivals, plays and concerts, Wadih Al-Safi soon became a household name in the Arab world, being described as "the pure voice of Lebanon." His tenor voice commanded a unique beauty, especially when he sang about Lebanon, a country so loved throughout the Arab world. He was known to bring tears of joy as his popular songs invoked the beauty of the land and the old country.
Al-Safi wrote and composed over 3000 songs, most of which symbolize the goodness of Lebanon and the Middle East. He performed throughout the Americas, Australia, Europe and the Middle East.
Wadi' Al-Safi died on October 11, 2013 in Mansourieh, Lebanon.
He released numerous albums and compilations.