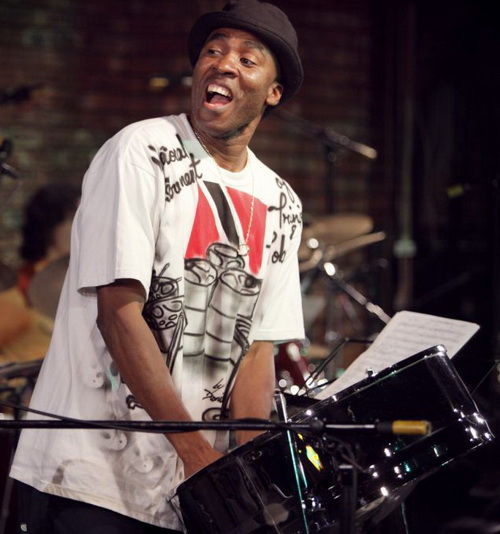 Tony Guppy was born and raised in Success Village Laventille P.O.S (Trinidad). The youngest of five brothers, he was exposed to steel drum music at a very young age.
Anthony first started playing the steel drums in his eldest brother's (Herman Guppy) band; the members consisted of family and friends.
In 1990 he toured Sweden, Germany and Denmark. In 1993 Guppy was 3rd in "pan ramajay" soloist competition held in Trinidad & Tobago. Guppy, who had been abroad performing on a cruise ship for the previous four months, returned home on the night before the competition. On the following day, upon hearing of the contest, he decided to enter. The following year he won the1st place in the "pan ramajay" soloist contest.
In 1995, he recorded on Kitchener's album, Ah have it Cork. The following years he performed at the Milwaukee-summer festival with the Pandigenous band. He also played in Disneyland and other theme parks in California with the Trinidad & Tobago Show-boat Band.
Guppy is currently based in Japan, performing in places like Tokyo, Yokohama, Nagoya, Hiroshima, Osaka, Fukuoka, Miyazaki and Okinawa. In 2004 he toured with Japanese singer-songwriter and guitarist, Shoichi Matusnaga.
Guppy has acquired a lot of his musical knowledge from working and performing with some of the top entertainers in Trinidad & Tobago and abroad, Robert Monroe, Rudy Smith, Ralph Davies, Terrance Shaw, Earl Rodney, Sean Thomas,Curtis & Felix Ruiz, Len Boogsie Sharpe, and Joe Cea.
Discography:
Another Side Of Me (2006)