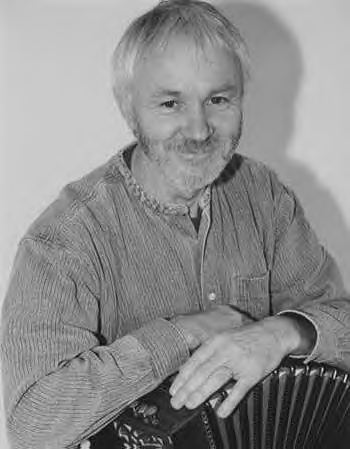 Máirtin O'Connor began playing the accordion at the age of nine, and his remarkable career has seen him as a member of many of traditional music's leading groups including, Midnight Well, De Dannan, The Boys of the Lough, and Skylark. His first solo album A Connachtman's Rambles established him as a solo musician and proved a major critical success. The album remained in the British Folk charts for a considerable period.
Máirtin's second solo album Perpetual Motion, released in 1990 is one of the best accordion albums ever produced by an Irish artist and displays his astounding skill, dexterity and versatility to the full. The release in 1993 of his Chatterbox album gave further evidence of his outstanding technique, imagination and compositional talent.
Máirtin's infectious and irresistible style and constantly growing status has kept him very busy not only with live concerts but also as a session musician on recordings by many national and international musicians such as Rod Stewart, Elvis Costello, Mark Knofler, Tanita Tikaram, Townes Van Zandt, Chieftains, the Dubliners, Davy Spillane, Maire Brennan, the Waterboys, etc. M?irt?n also played on the very prestigious Paris Mussette (vol 2) as series of records chronicling the history of the mussette, featuring top French accordion players which is included in the Phonographic History of French accordion Music
As a soloist he has performed with the RTE Concert Orchestra on Bill Whelan's Seville Suite and in 1995 he played a major role in Bill's world renowned Riverdance. He has also worked on the music for Shakespeare's Twelfth Night featuring Ben Kingsley and written by Shaun Davey, plus Bill Whelan's 'Some Mother's Son'.
Also in 1995 Máirtin became the first recipient of the Allied Irish Banks, Traditional Musician of the Year award at a ceremony in his home town of Galway. The award was to acknowledge the tremendous contribution made by Máirtin to traditional Irish Music and in particular accordion music.
Discography:
The Connachtman's Rambles (Mulligan, 1979)
Perpetual Motion (Claddagh Records, 1990)
EastWind (Tara Records, 1992)
Chatterbox (Dara Records, 1993)
The Road West (Tara Records, 2005)
Rain of Light (Tara Records, 2011)
Crossroads (Hook Records, 2008)
Going Places (2012)
Zoë Conway, Dónal Lunny and Máirtín O' Connor (2016)