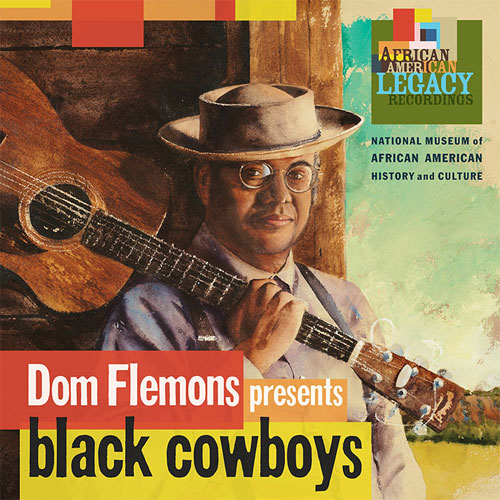 Dom Flemons – Black Cowboys (Smithsonian Folkways Recordings, 2018)
Celebrated multi-instrumentalist, singer and musicologist Dom Flemons, a founding of the seminal Carolina Chocolate Drops, explores and honors the African American cowboy songs of the Old West.
Dom Flemons used poems, rearranged traditional songs and composed new material using a mix of American folk, country and other American roots music forms.
On Black Cowboys, Dom Flemons is joined by various blues and folk musicians from the Washington Dc area as well as members of the Squirrel Nut Zippers.
Dom Flemons played a wide-range of musical instruments from various traditions: 6-string banjo; background vocal; cow "rhythm" bones; fiddle; fife; Fraulini Angelina 6-string guitar; Fraulini Angelina 6-string guitar-banjo; Mexican guitarrón; harmonica; Hawaiian guitar; kazoo; mandolin; marching bass drum; original Hound Dog resonator guitar; Plectrum 4-string banjo; quills (musical instrument); recitation; snare drum; Stella 12-String Guitar; upright bass; and vocals.
Flemons' earlier recording include Prospect Hill (Music Maker, 2014) and American Songster (2009).
The extensive Black Cowboys CD booklet contains a history of black culture in the American West, details about the songs, vintage photos and biographical information about the artists.