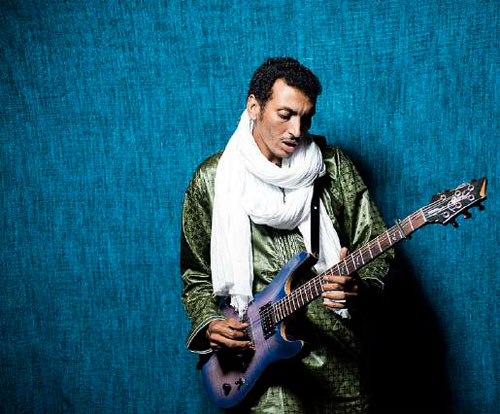 The ArtsCenter in Carrboro, North Carolina has announced its 2019-2020 Performance Season, featuring a wide range of over 20 locally and nationally acclaimed artists and partners.
The ArtsCenter's 2019-2020 Performance Season includes: Joan Osborne, Keller Williams, Leahy, Bombino & Vieux Farka Touré, John Jorgenson Bluegrass Band, Alash with special guest Shodekeh, BeauSoleil Cajun Christmas, Susan Werner, Dom Flemons, Manhattan Short Film Festival, Alice Gerrard with Allison de Groot & Tatiana Hargreaves, Kim So Ra: A Sign of Rain, Tannahill Weavers, the Holiday Circle Show and Carolyn Adams, as well as local partner events like PopUp Chorus, Transactors Improv and No Shame Theatre.
The programming for this Season explores the concept of "Global Roots" and features performers who represent and re-invent traditional musical styles from a variety of regions and cultures. One such artist is Kim So Ra, a modern master of the janggu (a Korean double-headed drum), who will appear at The ArtsCenter on September 22nd as part of her debut United States tour. For her performance A Sign of Rain, she is joined by fellow drummer Hyun Seung Hun, as well as Lim Ji Hye (on the gayageum or Korean zither), and Lee Hye Joong (on the piri or Korean bamboo oboe). This ensemble presents fluid, onomatopoetic textures from their instruments, creating an immersive aural tapestry that evokes the power, delicateness and ephemerality of a sudden rainstorm.
From the highlands of the Asian steppe, award-winning Tuvan ensemble Alash will return to The ArtsCenter for the first time since their acclaimed performance as part of The ArtsCenter's inaugural 2016-2017 Performance Season. These masters of xöömei, or Tuvan traditional throat singing, blend Eastern and Western instruments and influences with the haunting overtones of throat singing for an experience that has to be witnessed to be believed. They are joined for their performance on October 26th by Shodokeh, a Baltimore-based beatboxer and vocal percussionist.
From the arid regions of Niger and Mali, Bombino and Vieux Farka Touré will present two contemporary interpretations of the fiery guitar style of the Sahara desert. Vieux Farka Touré was a standout performance and cover artist of the 2017-2018 Performance Season, dazzling his audience with virtuosic, highly danceable guitar grooves befitting an artist often referred to as "The Hendrix of the Sahara." The Sons of the Sahara tour sees him join forces with Niger's Bombino, the Grammy-nominated young guitarist quickly making a name for himself globally with his sunny blend of Tuareg blues and contemporary style. The two will perform songs both together and separately on October 13th.
The 2019-2020 Season lineup also features household names like singer-songwriter Joan Osborne (famous for her 1990's MTV super-hit "One Of Us") on February 9th, and master of loop-based fingerstyle guitar wizardry Keller Williams on December 6th, as well as aa American roots music from North Carolina's living legend of old-time and bluegrass Alice Gerrard, accompanied by rising stars Allison de Groot on banjo and Tatiana Hargreaves on fiddle on September 21st.
"American Songster" Dom Flemons, a founding member of the Carolina Chocolate Drops, will bring his musical talents and repertoire of over 100 years of American traditional music to The ArtsCenter on March 20th. Celtic supergroups Leahy (March 13th) and the Tannahill Weavers (April 25th) represent the traditional folk music of Ireland and Scotland with their majestic harmonies and driving rhythms.
As part of The ArtsCenter's continued commitment to providing high-quality arts programming at an accessible price point, tickets to over half of the performances on the 2019-2020 Season cost less than $25, and over a third cost less than $20. Tickets can be purchased at artscenter.live/2019-2020Season.