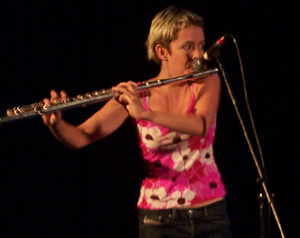 Sarah Allen started her musical career in a couple of little known bands on the London circuit – Di's New Outfit and Bodhrans and Binlids. Soon she realized a life's ambition to join The Happy End (as a novice accordion player). Around the same time (1988) The Barely Works was formed and this became a fairly full time occupation for 5 years or so.
After The Barely Works disbanded in 1993 she went on to form Bigjig with banjo maestro Chris Thompson whom with she plays with in an occasional duo. "I've also played in a duo with Leo Kelly of Tir Na Nog and with Tir Na Nog themselves. I play with Sally Barker sometimes as well."
Sarah Allen was well known as one of the members of Celtic band Flook, an innovative act that featured two flute players.
She later performed and recorded with The Waterboys.
Discography:
Turn Things Upside Down, with The Happy End
The Big Beat, with The Barely Works
Don't Mind Walking, with The Barely Works
Glow, with The Barely Works
The Best of The Barely Works
Feet to the Floor, with Bigjig
Bug, with Bigjig
Flook! Live! (Small CD 945 1997)
Flatfish (Flatfish 2CD 1999)
Rubai (Flatfish4CD 2003)
Haven (World Village, 2006)