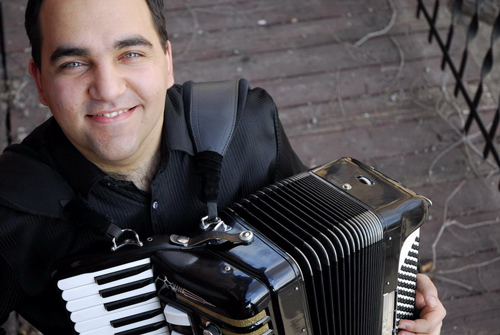 Born in Chisinau in 1981, Moldova, Sergiu Popa is a member of a well-known Roma (Gypsy) musical dynasty in his country. He, like several generations before him, is a virtuoso accordionist who plays not only traditional folk and Gypsy music of Eastern Europe, but is classically trained as well.
He studied at the Stefan Neaga College of Music in Chisinau (the capital of Moldova), and completed two years at the Conservatory of Chisinau before emigrating to Canada in 2002. His first musical performance in Canada was at the Drummondville Festival Mondial des Cultures, where he performed with Vatra, a Moldavian dance troupe.
In Canada, during the short time he has been here, he has been distinguishing himself as a unique, versatile and highly talented artist. He has continued to perform traditional Eastern European music with other distinguished musicians such as Sergei Trofanov, Carmen Piculeata (violinists), Romeo Vaduva (pan flutist), Vladimir Sidorov and Marin Nasturica (accordionists), while expanding his repertoire with renowned jazz singer Jeri Brown. He has accompanied Angele Dubeau's La Pieta (performing at the Lanaudiere and Mont Tremblant Festivals in 2003 and 2004) and is sought after by the Cirque du Soleil for a possible future collaboration.
During the summer of 2005, he led a full ensemble of musicians and dancers for an outdoor public performance at the Place des Arts concert series, Les Midis du Monde. The ensemble, named Sergiu Popa and Moldomania, performed traditional music from Moldova for an audience of several hundred people.
Sergiu was featured at the 1st edition of the Romani Yag Gypsy Festival in Montreal, where he gave a workshop in Gypsy style accordion, performed and participated in the premiere of a musical theatre production called Romano Drom. He was also featured as a solo performer in the 2005 edition of Printemps des Bretelles, an accordion festival in Montreal.
In 2006, Sergiu and his ensemble performed as part of the ?soir?e d?couvertes? at the 2006 edition of the ?Festival des Musiques et du Monde?, organized by Musique Multi-Montr?al. At the festival, he was nominated for the ?toiles Galaxie prize from Radio-Canada, for up-and-coming artists.
Sergiu established a reputation for developing creative, tasteful and innovative arrangements and accompaniment; this despite having been deprived of exposure to the work of great contemporary artists from the western world (until quite recently access to music from outside the former eastern bloc was highly restricted in Moldova). He believes that traditional music has its place in the future, and that young people will embrace it as long as it continues to evolve and reflect the spirit of a living culture.
His goals are to respectfully carry on the tradition which he has inherited from his father, and also to have the opportunity of collaborating with other gifted and progressive musicians who can help him expand the boundaries of that tradition, fusing with jazz, Latin and other international influences.
Discography:
Obsession Accordéon (2006)
Tous en Accord (2014)