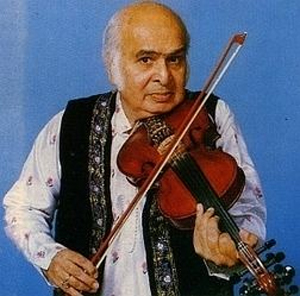 Vishnu Gobind Jog (V.G. Jog) was a venerated elder statesman of the North Indian violin. A highly respected musician and educator, he toured throughout the world as a soloist and with many of India's great instrumentalists. His distinctive style won him a special place among India's great musicians, and his soulful music was praised by Westerners such as John Coltrane and Eric Clapton.
Born in Maharashtra in 1922, he studied with Sri Shankar Rao Athavela, Ganapat Rao Purohit, and Allauddin Khan.
Since 1999, Pandit Jog had been suffering from Parkinson's disease. The disease had not only disabled the elderly musician by taking away the violin away from his hands, but was also taking away all his assets. Without music, his sole source of income, the high cost of health care became an unsustainable burden for the Jog family. Additionally, the unexpected death of his son added a misfortune to the indisposed violinist and his family. Various benefit concerts were held to provide him and his family with urgently needed financial aid.
Along with the Padma Bhushan, Jog also received the Sangeet Natak Akademi award, West Bengal government's Rajya Natak award, the Kalidas Samman, the Bhuwalka Puraskar and the Hafiz Ali Khan award.
Jog had a long involvement with the All India Radio's Kolkata center as music composer and producer, as well as being member of the AIR's audition board.
V.G. Jog died on January 31, 2004.
Discography:
Bismillah Khan With V. G. Jog (His Master's Voice, 1962)
Raga Kedara / Raga Chandrakauns (Odeon 1963)
Duets (His Master's Voice, 1965)
Manik Varma ((His Master's Voice, 1965)
Shenai & Violin (His Master's Voice, 1968)
Shyam Kalyan / Raga Des / Dhun (His Master's Voice, 1970)
Violin & Shehnai – Jugalbandi (His Master's Voice, 1977)
The Distinctive Two, Violin & Flute Jugalbandi (His Master's Voice, 1978)
Violin Recital (His Master's Voice, 1982)
Ragas: Jogkaus Khamaj (Chhanda Dhara, 1983)
Jugalbandi Harmonium And Violin (His Master's Voice, 1985)
Jugalbandi – Duet For Violin And Guitar – Raga Bageswari (Chhanda Dhara, 1988)
Violin (Moment Records, 1991)
Monsoon Raga Nataraj Music, 1993
Waves Of Ecstasy Vol. 2 (All India Radio, 1995)
Waves Of Ecstasy Vol. 3 (All India Radio, 1995)
Indian Classical Duets Vol 1 (ITC Limited, 2009)