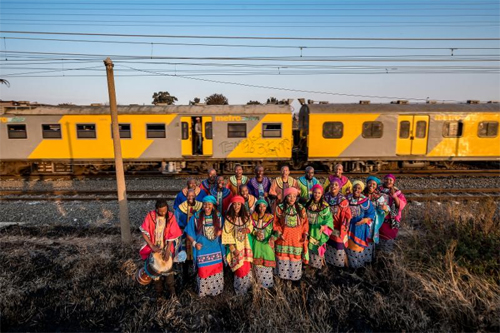 Soweto Gospel Choir is a vocal ensemble, performing in 8 different languages. its performances are an inspirational program of tribal, traditional and popular African gospel.
Under the direction of the notable choirmaster David Mulovhedzi, the Soweto Gospel Choir, draws on the best talent from the many churches and communities in and around Soweto. Since the Choir began touring internationally in early 2003 they have performed to nightly standing ovations, sold-out houses and rave reviews.
As well as traditional African Gospel, the ensemble also performs "Amazing Grace," "Paradise Road," and music by Otis Redding and the soul-styled reggae of Jimmy Cliff. The ensemble also features traditional dancers and drummers and a dynamic four-piece band.
In October 2004 the Choir completed a highly successful five week tour of the United Kingdom. In August they returned to the Edinburgh Fringe Festival, where they performed their new show Blessed to packed houses and rave reviews. A highlight for the Choir was the opportunity to onstage with Anastasia, Queen, Peter Gabriel, Cat Stevens and Annie Lennox, to an audience of 26,000 at Nelson Mandela's Aids Fundraising concert in Cape Town in December 2003, which was broadcast around the globe on MTV.
The Soweto Gospel Choir commenced its first tour to the United States in January 2005 to great acclaim. This followed a two month tour of Germany and Spain.
Discography:
Voices from Heaven (Shanachie Records, 2005)
Blessed (Shanachie Records, 2006)
African Spirit (Shanachie Records, 2007)
Grace (Shanachie Records, 2010)
Freedom (Shanachie Records, 2018)