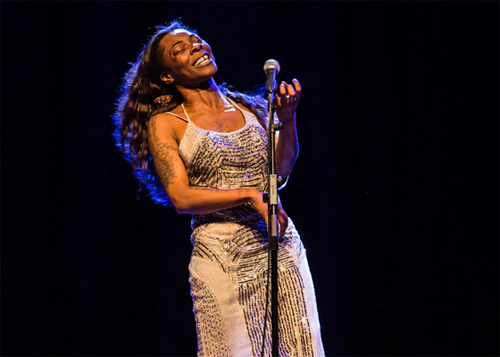 Buika (pronounced BWEE-kah) was born Concha Buika on the Spanish island of Mallorca, to parents who arrived to Spain as political exiles from Equatorial Guinea. They lived in the island's capital city, Palma de Mallorca, where, Buika remembers, the only black resident other than her family members was a man hired to stand in the doorway of a gift shop, like just another novelty on display.
She was a skinny girl with an afro hair style that curious neighbors would reach out to touch — hair which she later learned to style from photos of her early musical idols Michael Jackson and Whitney Houston. Her father, a writer and activist, left the family and returned to Guinea, and her mother raised Buika and her five siblings in a household "filled with people, food and music." She grew up singing and playing instruments – guitar, piano, bass. She has recently taken up cello.
"I am African and an African does not have musical training,"she explains. "An African can't live without music. When my grandmother was upset with someone and so mad she couldn't speak, she would sing what she wanted to say to them instead. My first memories are of hearing music playing. Like meals, music was part of our daily life. There has always been music in my head and in my heart."
Buika also found a second home among the community of Gypsy families who had settled in Palma. She played after school in that marginal neighborhood, and as always, music was a part of those long childhood afternoons, which are echoed today in Buika's instinctive embrace of flamenco's emotional deep song, and the copla. But as much as she is currently identified with the copla, and credited with reinventing that classic romantic Spanish style, Buika herself refuses to define music by genre or style. She considers all artists and all kinds of music to be "a gift from God," but allows that she's most drawn to music, borne on society's fringes, that expresses her own desire to tell it like it is.
"It's not just about music, it's a way of life," she says. "It's about not running away from yourself. Some people sing about what they would like to happen, but in the copla and el cante [flamenco song], we confront who we are, with all of our fears and all of our defects. In the United States there's also a great tradition like this: it's called the blues."
When she was seventeen, Buika's aunt recommended her for a job singing R&B in a hotel in Mallorca. Not ever having considered singing professionally, the teenager said no, but relented when she learned the gig paid more than she could make doing other jobs available to her. "Since I got on that stage I've never stopped working," she says now.
Buika soon took off to the see the world. She spent some time in London, and in 2001 the singer ended up in Las Vegas, where she worked in casinos as a Tina Turner impersonator, with the requisite wig and platform shoes. She later divided her time between Mallorca and Madrid, where she found soulmates in a community of artists "more interested in the show than in the business."
"Not all artists want to see ourselves as just sexy girls, some of us want to communicate what we have inside and practice our art," Buika says. "I look for music that helps us live and that feels good. I want to keep giving love and passion to my music and my audience."
In 2015, Buika released her eighth album, Vivir Sin Miedo, with vocals in English, Spanish and a mix of the two languages. Vivir Sin Miedo was recorded over four months in Miami, New York, London and Madrid, and features various guests, including Me'shell Ndegeocello and Jason Mraz.
Buiika currently lives in Miami, United States.
In 2019 she collaborated with rock star Carlos Santana. They recorded the album Africa Speaks.
Discography
Mestizüo, with Jacob Sureda (Blau, 2000)
Buika (DRO Atlantic/Warner Music Spain, 2005)
Mi Niña Lola (DRO Atlantic/Warner Music Spain, 2006)
Niña de Fuego (DRO Atlantic/Warner Music Spain, 2008)
El Último Trago, with Chucho Valdés (DRO Atlantic/Warner Music Spain, 2009)
En Mi Piel, compilation (Warner Music Spain, 2011)
La Noche Más Larga (Warner Music Spain, 2013)
Vivir Sin Miedo (DRO EastWest/Warner Music Spain, 2015)
Para mí (Warner Music Spain, 2017)
Africa Speaks, with Santana (Concord Records, 2019)