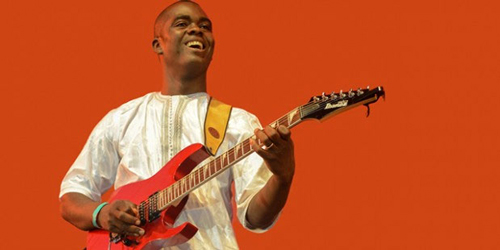 Virtuoso guitarist and singer-songwriter Oumar Konate was born in Gao, northern Mali. At six, Oumar was leading his first band in the street in front of the family home.
While a student at the National School of Arts (l'Institut National des Arts) in Bamako, Mali's capital, Oumar recorded his first album Lahidou (The Promise) in 2007. He has since collaborated with many great artists in Malian music; including Vieux Farka Toure, Sidi Toure, Khaira Arby and others.
Oumar was a guest guitarist on Sidi Toure's 2011 album Sahel Folk. He regularly tours as backing guitarist to Vieux Farka Toure. He leads the house band on the popular monthly television variety show Tounkagouna on Malian National TV ORTM.
In June 2011, Oumar was invited to perform at the Mali Festival in Sweden. He toured the USA with singer Khaira Arby in the spring of 2012 and returned again with his own band in July of that year to perform at Lincoln Center Out of Doors and at the Grassroots Festival near Ithaca, New York.
In January 2012, he appeared at the Festival au Desert, Essakane in Timbuktu, Mali.
"Addoh" (Clermont Music) was Oumar Konaté's international debut album, released in 2014.
In 2016 he was awarded the Tamani d'Or, the Malian music industry's leading music award.
"Maya Maya" was released while Mali was in turmoil.
"Live in America" (2017) contains fiery Afro-rock by Oumar Konaté with his power trio on its 2014 tour. The band included Makan Camara and Cheick Siriman Sissoko.
In 2019 Oumar Konate released "I Love You Inna," recorded in Bamako during the Spring of 2018.
Discography:
Lahidou – The Promise (2007)
Addoh ‎(Clermont Music, 2014)
Maya Maya (Clermont Music, 2016)
Live in America (Clermont Music, 2017)
Oumar Konaté Live In Bamako ‎(Clermont Music, 2018)
I Love You Inna (Clermont Music, 2019)