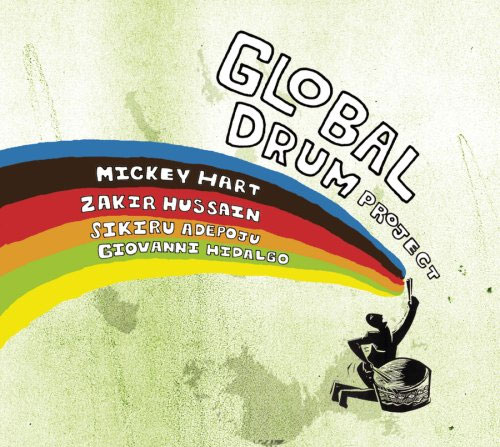 Mickey Hart, Zakir Hussain, Sikiru Adepoju and Giovanni Hidalgo – Global Drum Project (Shout Factory, 2007)
Grateful Dead's Mickey Hart and Indian tabla virtuoso, Zakir Hussain co-produced Global Drum Project and its 8 tracks of blood-racing, heart-thumping, soul-sweeping goodness. Add to this spectacular collaborative duo Latin percussionist Giovanni Hidalgo, talking drum artist Sikiru Adepoju, the vocals of the late Babatunde Olatunji, percussionist Taufiq Qureshi, Niladari Kumar on sitar and Dilshand Khan on sarangi and you've hit nirvana.
Opening track "Baba" is a spicy collage of interlocking rhythms, incorporating the meaty vocals by Babatunde Olantunji. In places the vocals mirror the tabla lines and in other places they mimic rough sound of Tuvan throat singing, making this track literally swim in coolness.
"Kaluli Groove" transports the listener into a rhythmic jungle with faint bird calls and sampled voices from "Voices of the Rainforest" amid a chunky beat and twangy guitar sound.
One of my favorites is the dreamy, hypnotic "Funky Zena" that travels along in a electronic-hazy groove. "Dances with Wood" is spare compared to some of the other tracks with an acoustic take on drumming rhythms, but it's this track where the listener gets full force the consummate talent of these artists and slams into a wall of richly textured percussion. It's tight, neatly packed percussion is astounding. "Heartspace" moves with the slowness of a river with sitar, sarangi, vocals and Indian rhythms; making it exotic and lovely.
The 1991 release of Mickey Hart's Planet Drum resulted in a Grammy win for Best World Music Album and an astounding 26 weeks on the Billboard chart, so it be no surprise if Global Drum Project went on to achieve the same accolades. Fans will have the opportunity to experience the masterful grooves themselves when the group tours the US this fall to promote Global Drum Project.
Buy Global Drum Project.
Author:
TJ Nelson
TJ Nelson is a regular CD reviewer and editor at World Music Central. She is also a fiction writer. Check out her latest book, Chasing Athena's Shadow.
Set in Pineboro, North Carolina, Chasing Athena's Shadow follows the adventures of Grace, an adult literacy teacher, as she seeks to solve a long forgotten family mystery. Her charmingly dysfunctional family is of little help in her quest. Along with her best friends, an attractive Mexican teacher and an amiable gay chef, Grace must find the one fading memory that holds the key to why Grace's great-grandmother, Athena, shot her husband on the courthouse steps in 1931.
Traversing the line between the Old South and New South, Grace will have to dig into the past to uncover Athena's true crime.