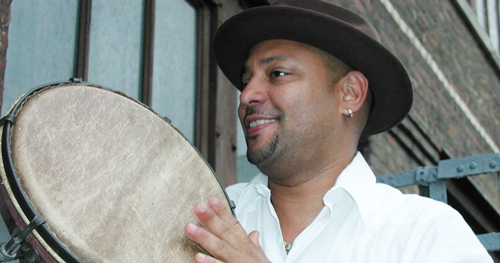 Hector "Tito" Matos is a Puerto Rican percussionist who specializes in the traditional Puerto Rican rhythms, bomba and plena. His extensive work have taken him to stages and festivals all over the world playing with bands such as Pleneros de la 21 and Pleneros de la 23 Abajo.
He is considered to be one of the best requinto players of his generation. The requinto is the pandereta (tambourine, originally from Spain) that constantly improvises in plena. He has appeared in recordings by some of the most recognized Latin jazz musicians such as Eddie Palmieri's Rumbero del Piano and David Sanchez' Obsesion.
In 1997, while living in New York City, he founded Viento de Agua and recorded De Puerto Rico al Mundo, their first album as a band. The group modernized the traditional rhythms by including piano, bass, a brass section and, for the first time ever, a drum set. They released a second album with a more traditional approach, under the Smithsonian Folkways record label. Materia Prima is a back to the roots album featuring the genres, bomba and plena, with their original sound using only the traditional instruments.
Discography:
De Puerto Rico al Mundo (Qbadisc, 1998)
Materia Prima (Smithsonian Folkways Recordings, 2004)
Fruta Madura (2009)
Opus IV (2013)
Sonidos Primarios (2015)