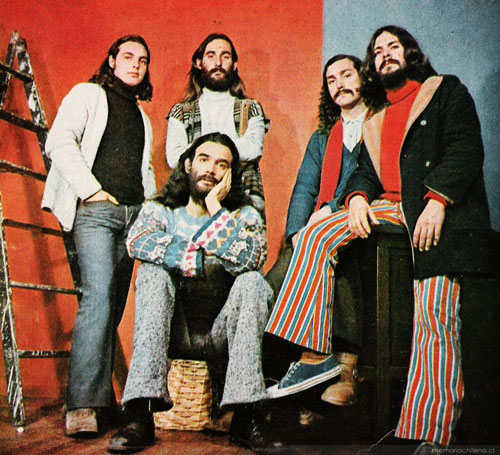 One of the defining bands in the history of Chilean music, the members of Los Jaivas first began playing together in 1963, and their sound soon grew into a genre almost all its own: progressive Andino rock. Mixing elements of South American ancestral and folk music with progressive rock, Los Jaivas emphasized elements of improvisation on ethnic instruments such as the tutruka, charango, tarka, tumbadoras, bongo and maracas, while jamming with the intensity and power of a progressive rock band, all the while adding symphonic touches to it all.
But more than just a band, Los Jaivas represented for many the freedoms and liberties associated with the Socialist movement in Chile in the late 1960s and early 1970s. Many artists decided to return to their native country's own musical roots for inspiration instead of merely following foreign trends, and Los Jaivas took that one step further with their unique fusion of the two, making complicated and challenging folk music in the Andean tradition that spoke to the Chilean people in a time of change.
Following the military coup in 1973, Los Jaivas went into self-imposed exile in Argentina and France, where they were well received by foreigners and Chilean ex-patriots. 1977's Cancion del Sur quickly became a classic of Chilean music, but probably their greatest success came in 1981 when they were asked by a Peruvian friend and film producer who was also exiled in France to compose music for Pablo Neruda's masterwork Las Alturas de Machu Pichu (The Heights of Machu Pichu).
Composed as an epic rock opera, the band took the challenge one step further, and got permission to perform the new record on top of Machu Picchu itself, the world-famous ruins of the Inca Empire which sit perched high in the mountains of Peru. One of the truly great concerts in the history of South American music, the show was made possible with the help of the Peruvian government (helicopters lifted the grand piano and sound system to the peaks) and financed almost completely by Los Jaivas themselves, and was a major television event in Chile when it was finally broadcast on TV.
In August 2003, Los Jaivas celebrated 40 years in music, and their album Las Alturas de Machu Picchu was honored by Absolut vodka in May 2005 as one of the masterpieces of Rock en Español.
Discography:
El Volantín (1971)
Todos juntos (1972)
La Ventana (1973)
Sueños de América (1974)
Los Jaivas (El indio) (1975)
Canción Del Sur (1977)
Mambo de Machaguay, compilation (1978)
Alturas de Macchu Picchu (1981)
Aconcagua (1982)
Obras de Violeta Parra (1984)
Si tu no estás (1989)
Hijos de la Tierra (1995)
Palomita blanca, 1973 Movie soundtrack (1995)
Trilogia: El Rencuentro (1997)
Mamalluca (1999)
En El Bar-Restaurant Lo Que Nunca Se Supo, compilation (2000)
Los Jaivas En Concierto: Gira Chile 2000 (2000)
Arrebol (2001)="https://www.amazon.com/gp/product/B000067IP5?ie=UTF8&tag=musidelmund-20&camp=1789&linkCode=xm2&creativeASIN=B000067IP5″>Obras Cumbres, Compilation (2003)
Serie de Oro: Grandes Exitos, compilation (EMI, 2004)