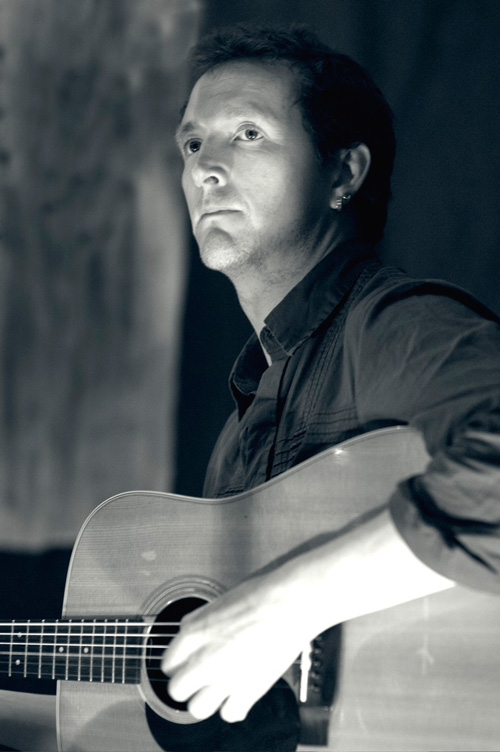 John Doyle is one of the most talented and innovative musicians to come out of Ireland in recent years. Now a resident of Asheville (North Carolina), John Doyle was born in 1971 in Dublin, Ireland, into an extended family of musicians and singers. He was playing professionally by the age of 16 when he and singer Susan McKeown joined to form The Chanting House, which later added the prodigious talents of Seamus Egan and Eileen Ivers to the group.
A few years later, John and Egan came together with John Williams, the wonderfully inventive accordion player from Chicago, talented fiddler Winifred Horan, and Waterford-born singer Karan Casey, to form the enormously influential band, Solas.
John's powerful guitar playing provided the signature rhythmic backbone for the band, and his delicate and emotional finger-style playing and creative vocal harmonies can be heard on all Solas' recordings for Shanachie Records. Solas performed to sold-out audiences around the world, appeared on NBC's The Today Show, public radio's A Prairie Home Companion, Mountain Stage, E-Town and World Cafe, and received three NAIRD awards and a Grammy nomination.
John composed music for the film Uncle Robert's Footsteps and the play Down the Flats, and appears on the soundtracks for The Brothers McMullen, Soldier and PBS's Out of Ireland. He has performed at scores of major festivals worldwide, including the Telluride Bluegrass Festival, Rocky Mountain Folks Fest, Washington Irish Festival, Milwaukee Irish Festival and major festivals in Denmark, Belgium, Brittany, England, Spain, Switzerland, Austria, Finland and Ireland.
John is also a highly sought-after sideman and has recorded and/or toured with Liz Carroll, Eileen Ivers, Tim O'Brien and The Crossing, Frank McCourt, Linda Thompson, Kate Rusby, Mick Moloney, John Williams, Seamus Egan, Cathal McConnell, Kim Robertson, Brian Conway, Joannie Madden, James Keane, Joe McKenna, Karan Casey, Cathie Ryan and James Leva.
John's much anticipated first solo recording, Evening Comes Early, was released on Shanachie Records in 2001, and his second solo CD Wayward Son was released in 2004 on Compass Records.
Discography
* Solas, with Solas (Shanachie Records, 1996)
* Sunny Spells and Scattered Showers, with Solas (Shanachie Records, 1997)
* The Words That Remain, with Solas (Shanachie Records, 1998)
* The Hour Before Dawn, with Solas (Shanachie Records, 2000)
* Evening Comes Early (Shanachie, 2001)
* Wayward Son (Compass Records, 2004)
* In Play, with Liz Carroll (Compass Records, 2005)
* Double Play, with Liz Carroll (Compass Records, 2009)
* Turning Tide, with Solas (Compass Records, 2010)
* Exiles Return, with Karan Casey (Compass Records, 2010)
* Shadow and Light (Compass Records, 2011)
* Live, with Michael McGoldrick, John McCusker (Vertical Records, 2012), recorded on the 2009 tour
Videos
* Irish Rhythm Guitar: Accompanying Celtic Tunes (Homespun Tapes, 2004)