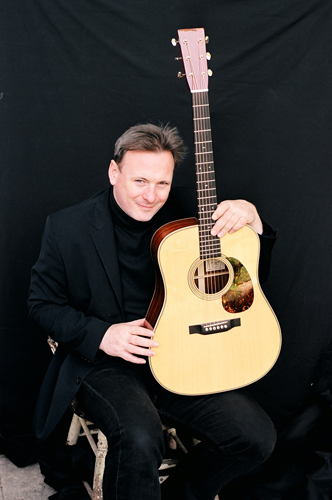 Guitarist Tony McManus was born in 1965 in Paisley, Scotland. He is a leading figure in contemporary Celtic music. His style is influenced by the entire Celtic diaspora – Scotland, Ireland, Brittany, Galicia, Asturias, Cape Breton, Quebec – along with still further-ranging flavors, such as jazz and east European music.
His skills are also in constant demand by fellow musicians and he has featured on over 50 albums by other artists, including Kate Rusby, Alison Brown, William Jackson, Brian McNeill, Liz Doherty, Colin Reid and Catriona Macdonald, in addition to innumerable live guest appearances.
Other collaborations include his celebrated partnership with master Scottish fiddler Alasdair Fraser. In 2005, McManus released a CD with Breton fretless bass player, Alain Genty titled Singing Sands.
Discography:
Tony McManus (Greentrax, 1996)
Pourquoi Quebec (Greentrax, 1998)
Return to Kintail, with Alasdair Fraser (Culburnie, 1999)
Ceol More (Compass, 2002)
Singing Sands with Alain Genty (Compass, 2005)
The Maker's Mark (Compass, 2008)
Mysterious Boundaries (Compass, 2013)
Round Trip, with Beppe Gambetta (Borealis, 2015)