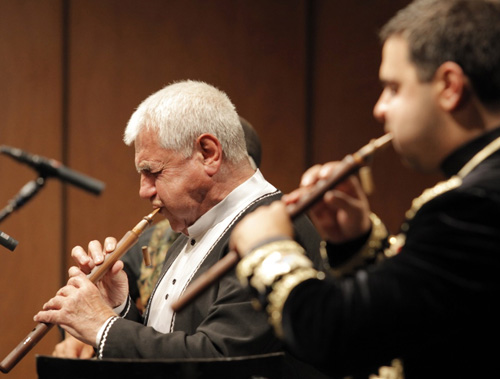 Jivan Gasparyan (his first name is also spelled Djivan) was born in 1928 in Solag, a village near the Armenian capital Yerevan. He began to play the duduk at age 6, gaining much of his knowledge by listening to the great masters.
In 1948 he joined the Tatoo' Altounian National Song and Dance Ensemble, and also had his first professional engagement as soloist with the Yerevan Philharmonic Orchestra.
Most of Gasparyan's repertoire features traditional Armenian folk songs. He also is an accomplished composer and a singer in the folk tradition. In addition to his original compositions and arrangements of traditional songs, he has written love songs based on the poetry of Vahan Derian.
Gasparyan won Gold Medals in four worldwide competitions organized by UNESCO (1959, 1962, 1973, and 1980) and is the only musician ever to be given the honorary title of People's Artist of Armenia, received in 1973 from the Armenian government.
A professor at the Yerevan Conservatory, Gasparyan has prepared more than 70 duduk musicians for professional performance. He greatly enjoys teaching, and it brings him joy to know that through his efforts the tradition of duduk playing will not be lost.
Gasparyan has toured Europe, Asia, and the Middle East. In the United States, he has performed extensively in New York and Los Angeles, appeared with the Los Angeles Philharmonic Orchestra, and has received exposure to Western audiences through performances with the Kronos Quartet.
Gasparyan's album of Armenian folk songs and ballads, I Will Not Be Sad In This World (All Saints, 1989), dedicated to victims of the Armenian earthquake, received worldwide recognition. He has collaborated with Lionel Richie and Peter Gabriel.
His contribution to the soundtrack of Gladiator is only the latest of his continuing collaborations with the film industry both in Hollywood and in Europe: The Russia House, The Siege and The Crowand Atom Egoyan's film Calendar, as well as for the American-Hungarian cable television co-production Storm and Sorrow.
At the age of 73, Jivan received the WOMEX (World Music Expo) lifetime achievement award of 2002.
Discography
* I Will Not Be Sad in This World (Opal/All Saints)
* Moon Shines at Night (Opal/All Saints)
* Ask me no questions (Traditional Crossroads 4268, 1996)
* Apricots from Eden (Traditional Crossroads 4276, 1996)
* The Crow, soundtrack
* Black Rock, with Michael Brook (Realworld 46230, 1998)
* Djivan Gasparyan Quartet (Libra Music 1998)
* The Seige, soundtrack (1998)
* Heavenly Duduk (Network 1999)
* Armenian Fantasies (Network 34801, 2000)
* Gladiator, soundtrack
* Fuad, with Erkan Ogur (2001)
* Art of the Armenian Duduk (Arc Music, 2002)
* Endless Vision, with Hossein Alizadeh (World Village, 2006)
* Penumbra, with Michael Brook (Canadian Rational/bigHelium, 2008)