Acclaimed Nigerian musician Femi Kuti and his band Positive Force are set to release their new album One People, One World in February 2018 on Knitting Factory Records. Femi talked to us about his music and upcoming album.
Angel Romero – Tell us about your musical background, and how your father influenced your choice of music as a career.
Femi Kuti – Musical background is I practically taught myself everything I know by just reading and listening. And by playing in my father's band. My father advised if I wanted to be a musician then it was best I listened to a lot of jazz music. This was difficult for me as I didn't like jazz, he then introduced me to Moody's mood for love by James Moody. This was really my introduction into jazz.
What do you consider as the essential elements of your music?
My father's influence for sure, these days my music comes from my heart and soul.
Who can you cite as your main musical influences?
My father and all great jazz musicians from Miles Davis, Charlie Parker and for sure most of them great jazz musicians of that era.
How is your Afrobeat different from your father's Afrobeat?
Hard for me to describe. And if I did, most people would think I'm being critical of my father. One easy way is my music is shorter 😊.
Afrobeat has spread to many corners of the world and is still popular with many fans. How is the Afrobeat scene in Nigeria currently?
Still very relevant. Especially as things are still bad economically for majority of the people. And most young artists or bands are influenced by my father or me in a way.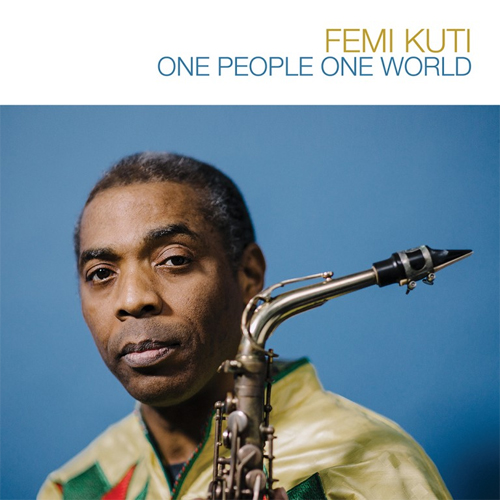 What's the concept behind your new album One People, One World?
That we are all one living on one planet basically. And we have to urgently understand this before we destroy our planet.
Your son Omorinmade Anikulapo – Kuti participated in One People, One World. What was his role and what did he bring to the table?
For me, he brought beauty and love; I have no words to describe. To see my son play on my album and contribute was …. true love.
What are the challenges you face as a musician, composer and father?
Being on the road missing my children, always trying to make my band understand what we are doing is a fight against injustice and corruption. Finding great melodies to keep people that love what we are doing happy and inspired and making sure my music stands the test of time.
What is your vision of what music can bring to our complex world?
Peace, love, understanding to complex issues that politicians are too afraid to talk about.
What countries will you visit on your next tour?
Hopefully everywhere. Europe, the USA, Africa, Australia, New Zealand, Asia.
If you could gather any musicians or musical groups to collaborate with, whom would that be?
I keep an open mind. I could really work with anyone or any band if time permits.
What advice do you have for aspiring musicians out there?
To pick up at least one musical instrument. And music isn't about just the fame and money. Music is as important as studying medicine, law etc.