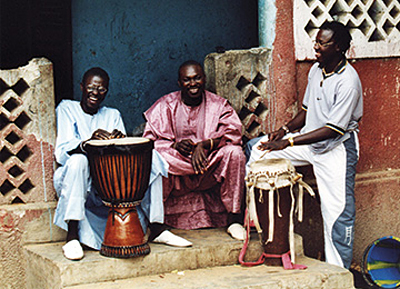 Djanbutu Thiossane was the group formed by Ass El Hadj Samba N'Diaye and his brothers, Baye Mass and Pap. They are members of a respected family of Senegalese jali (hereditary musician-storytellers) from the small town of Luga, located close to the Mauritanian border.
Ass, Mass, and Pap have the jembe (a large, single-headed, goblet-shaped drum)in their blood. All three are percussionists, as is their father, Demba. The Ass, Mass & Pap album highlights the jembe as well as the distinct tones of the sabar, drums carved from mahogany and played with one hand and a long, whip-like stick. Fellow Senegalese jali Massaba Samba joins in on the dundun (talking drum), adding greater rhythmic variety. Bekai Jobarteh, a Manding kora player born in Gambia, provides the melody.
The lyrics of Djanbutu Thiossane's songs are rooted in the praise-singing tradition of the jali. Some of the themes are timeless, such as the admonition for young people to honor their parents (Track 3: "Wadiour", Track 7: "Nanganama"), while others (Track 2: "Immigrés") address contemporary social pressures. The N'Diaye brothers take their musical heritage very seriously, and their songs are infused with a reverence for the past as well as a strong contemporary sensibility.
Djanbutu Thiossane's Mbalax sound, a modern, percussive music that blends Senegalese drumming, Afro-Cuban rhythms, and American pop, is second to none. Ass, Mass, and Pap keep very close to tradition, but when they lay down a dance beat they bring the house down.
Discography:
Ass, Mass & Pap (Nubenegra, 1999)
Fass (Nubenegra, 2002)