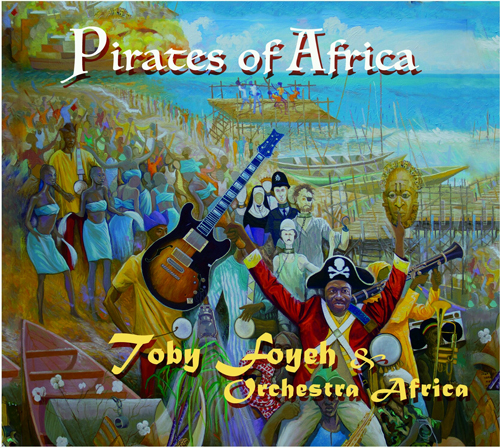 Toby Foyeh and his Orchestra – Pirates of Africa (Kameleon Afrika Music, 2019)
Nigerian world traveler Toby Foyeh is an excellent guitarist, charismatic vocalist and band leader. After living in Nigeria and the UK, he is currently based in the United States where he put together a formidable band that performs irresistible Nigerian-rooted music.
Pirates of Africa is the new album from Toby Foyeh and his orchestra. It is a superb set of Nigerian styles such as Afrobeat, traditional Yoruba rhythms and call and response vocals, highlife, and palm wine combined with funk, jazz, rock, pop and Latin American music. Additionally, he treats the listener to memorable electric guitar work.
The lineup on Pirates of Africa includes Tony Foyeh on male lead vocals, backing vocals, lead guitars, flute and percussion; Frank Martins on rhythm guitars; Samuel Ebidighi on bass and backing vocals; Koby Adopoku Maxwell on bass; Femi Sanya on bass and percussion; Oscar Debe on drums and percussion; Tosin Aribisala on drums; Jojo Kuo on drums and percussion; Jerrol Pennerman on keyboards; JB Gnonlonfoun on keyboards; Dennis Ayandiran on talking drums and percussiin; Samuel Salawu on talking drums; Michael Baiyewu on percussion, batá drums, sakara, wood block; and Tari Nosika, Tolumide Yeboah, Gloria Osaghae, Lola Okusanmi, Feyi Okusanmi, Ronke Coker, Shafi Bello, Dele Odunaiya and Amaka Igbonezim on vocals.
Get previews and buy the album from kameleonafricamusic.com