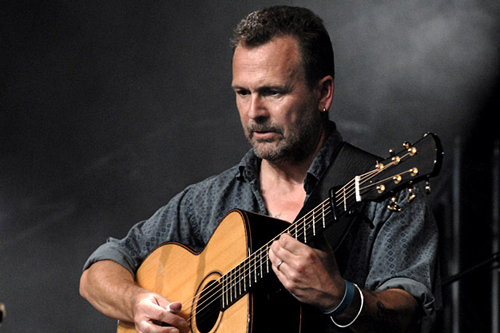 Martin Simpson is considered one of the finest finger pickers and slide players of Great Britain. His live performances alternate between great subtlety and 'feel' and driving bottleneck blues, keeping alive the original country bluesmen like Blind Willie Johnson and McTell. He takes a basic song and augments it so skillfully with astonishing fretboard harmonics and other devices that make it an epic.
Simpson was born May 5, 1953, in Scunthorpe, South Humberside, England. He started playing the guitar at the age of 12. The young guitarist began playing professionally at the age of 14. One of his first breaks came when Bill Leader, who owned the Trailer label, discovered him. Leader recorded Simpson's first album Golden Vanity. A few months later, Simpson was asked to join June Tabor's band. In 1979 he joined the Albion Band and played with them on two subsequent tours.
In 1987, Simpson moved to the USA where he formed a duo with his American wife, Jessica Radcliffe Simpson. The duo released several albums. Simpson also played with the American band Metamora, and worked with Henry Gray, the Louisiana blues pianist.
Martin continued to extend his diverse talents in new directions including projects like Kambara Music in Native Tongues, with David Hidalgo of Los Lobos, and sets recorded at the "Masters of Slide Guitar Tour" with Bob Brozman and Indian slide guitar master Debashish Battacharya.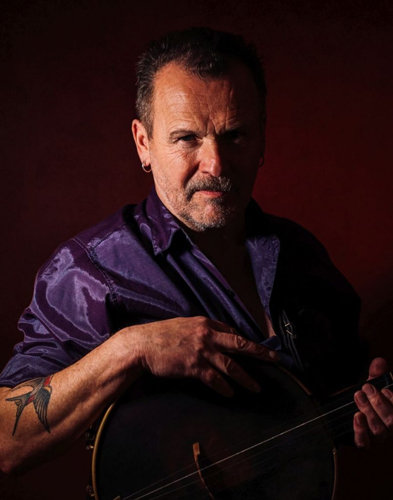 In 2015, Simpson recorded Murmurs with Andy Cutting and Nancy Kerr. This was followed by Trails and Tribulations on Topic Records (2017). Trails and Tribulations guests included Andy Cutting, Kathryn Tickell, Nancy Kerr and John Smith.
Also a renowned teacher, Martin gives workshops and master classes around the world, is a regular artist-in-residence at the prestigious National Guitar Summer Workshops, and has several teaching videos to his credit, produced by Homespun Tapes and Alfred Publishing. In addition, he is an honorary guitarist for the Association of Stringed Instrument Artisans (ASIA), a prominent instrument builders guild. Martin also frequently tours with his longtime bass player and all-around musical cohort, Doug Robinson, who has appeared on most of Martin and Jessica's recent albums.
Discography:
Golden Vanity (Trailer, 1976)
Special Agent ( Waterfront Records, 1981)
Grinning in Your Face (Topic Records, 1983)
Sad or High Kicking (Topic Records, 1985)
Nobody's Fault But Mine (Dambuster Records, 1986)
Leaves of Life (Shanachie, 1989)
When I Was on Horseback (Shanachie, 1991)
A Closer Walk with Thee (Fledg'ling Records, 1994)
Smoke and Mirrors (Thunderbird Records, 1995)
Cool and Unusual (Red House Records, 1997)
Live ( Red House Records, 1997)
61 Highway (1999)
Bootleg USA (High Bohemia Records, 1999)
The Bramble Briar (Topic Records, 2001)
Righteousness and Humidity (Red House Records, 2003)
Kind Letters (Topic Records, 2005)
Music of Ireland: Airs, Jigs, Reels, Hornpipes and Marches (2005)
Prodigal Son (Topic Records, 2007)
True Stories (Topic Records, 2009)
Purpose + Grace (Topic Records, 2011)
Vagrant Stanzas (Topic Records, 2013)
Trails & Tribulations (Topic Records, 2017)