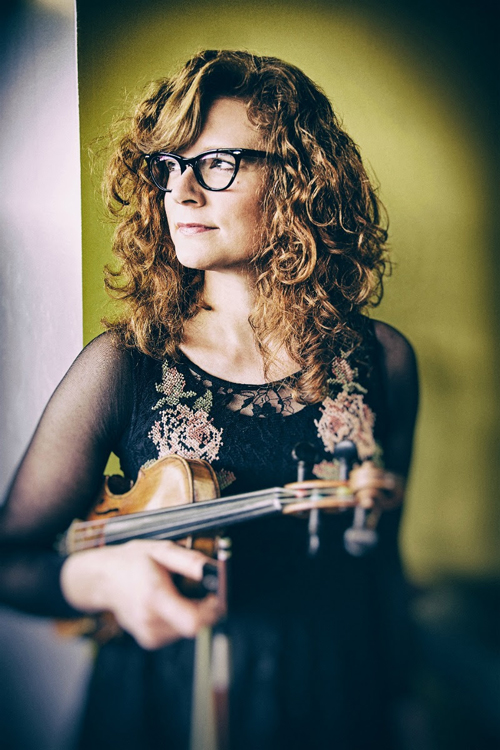 Becky Buller grew up in Minnesota. She played fiddle with her parents and Gordy and Roxy Shultz in the group Prairie Grass. She studied classical violin with both Patti Tryhus and Charles Gray and participated in the Mankato Area Youth Symphony and the Minnesota All-State Orchestra while in high school. Becky won the junior division of the 1996 Minnesota State Old Time Fiddle Championship in Cotton, Minnesota.
She graduated in 2001 with a public relations degree from East Tennessee State University (ETSU), where she took part in the prestigious Bluegrass, Old-Time and Country Music program. That same year, Becky's songwriting won first-place in the bluegrass category of the prestigious Chris Austin Songwriting Contest at MerleFest in Wilksboro, North Carolina.
Her journey as a professional musician included ten-years with Valerie Smith & Liberty Pike. She is featured on several of that group's recordings, wrote for the group and toured internationally with them as well. She also produced several of Val's records.
Becky was also a significant part of three albums with the award-winning Daughters of Bluegrass: Pickin' Like A Girl (2013), Bluegrass Bouquet (2008), and Back To The Well (2006), which won the 2006 IBMA Recorded Event Of The Year award.
In 2018, Becky performed with the all-female bluegrass super-group, The First Ladies Of Bluegrass, which includes all the first women to win in their respective categories at the IBMA awards: Alison Brown (banjo, 1991); Becky (fiddle, 2016); Sierra Hull (mandolin, 2016); Missy Raines (bass, 1998); Molly Tuttle (guitar, 2017). This configuration took home the 2018 IBMA Recorded Event Of The Year award for their work on "Swept Away", written by Laurie Lewis and recorded by the First Ladies on Missy Raines' solo album, Royal Traveller.
Crêpe Paper Heart, Becky's fourth solo album and second release for the Dark Shadow Recording label, came out on Valentine's Day 2018. The album featured Becky's renowned road band: Ned Luberecki (banjo); Professor Dan Boner (mandolin/guitar/vocals); Brandon Bostic (guitar); Daniel "Hulk" Hardin (bass/vocals); and Nate Lee (fiddle); along with award-winning guests Rhonda Vincent, The Fairfield Four, Sam Bush, Frank Solivan, Claire Lynch, Rob Ickes, Stephen and Jana Mougin, and Erin Youngberg (FY5).
In 2018, Becky Buller released a music video featuring special guest artist, Sam Bush. "The Rebel And The Rose," co-written by Buller, appeared on her Crepe Paper Heart album. "This song is special to me on so many levels, from writing it with my dear friend, Tony Rackley, to recording it with my hero, Sam Bush," Becky said. "The message of hope in this song is timeless; not one of us is so broken that love can't mend us."
Becky is very active in the bluegrass music business community, serving on the IBMA Foundation board. She was on the IBMA Board of Directors from 2013-17 and did a three-year term as chair of the IBMA Songwriter Committee from 2013-16.
Discography:
Little Bird (Bell Buckle Records, 2004)
Rest My Weary Feet (2000)
Here's A Little Song, with Valerie Smith (Bell Buckle Records, 2007)
Tween Earth and Sky (Dark Shadow Recording, 2014)
Crêpe Paper Heart ‎(Dark Shadow Recording, 2018)