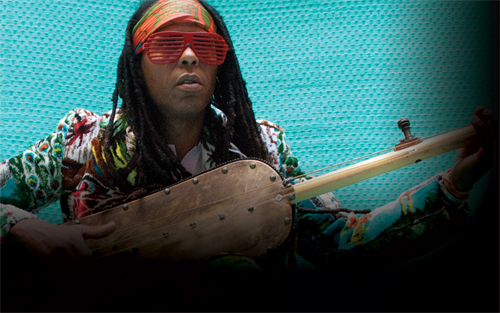 Hassan Hakmoun was born in Marrakech in 1963. At the age of seven he began to study tagnawit, the Gnawa related arts and lore, under the renowned Hmida Boussou. Starting with a few dances and songs, he gradually moved on to learn drumming, sintir playing ( sintir is a three-stringed long-necked lute), litanies, chants, costume and knowledge of the spirits. Hakmoun began to play for the Derdeba (Gnawa ceremony), which can last from ten in the evening into the next day. It is believed to release spirits that have inhabited a person or place.
At fourteen, Hakmoun left school to pursue a less formal education on the road. He traveled throughout Morocco, Spain and up into France, learning from his experiences and from the Gnawa masters he visited on his journey. Returning to Marrakech, Hakmoun continued to work as a Gnawa, performing as an entertainer on Jamaa el-Fna, the town square and working as a m'allem (master musician) in the Derdeba. Along with other young musicians in Marrakech, he has begun to broaden the repertory of Gnawa entertainment songs by performing Arab and Berber tunes in the Gnawa style.
Whether onstage, or visiting with friends in a small apartment, as Hakmoun sings and plays himself into a trance, people around him seem not too far from a trance-like state themselves. The pentatonic scale and driving rhythm of the Sintir are instantly appealing and familiar to Western audiences; music of the Gnawa, like much American popular music, is built from elements borrowed from West Africa. Clawhammer banjo enthusiasts will also find commonality in the percussive style of plucking the sintir.
Hakmoun made his U.S. debut in 1987 at Lincoln Center and has been living in New York City ever since. He performed at Woodstock '94 and on the WOMAD '94 tour. Besides performing traditional Gnawa music he has performed and recorded with jazz musicians such as Don Cherry and Adam Rudolph, pop stars like Peter Gabriel and Paula Cole, and world beat artists like Jamshied Sharifi.
In the year 2000, Hassan moved from New York to Los Angeles. He was romantically involved with pop singer Paula Cole.
Discography:
Gift of the Gnawa, with Don Cherry & Adam Rudolph (Flying Fish Records, 1992) –
Pieces of Africa (1992)
Trance (Real World Records, 1993)
The Fire Within (Music of the World, 1995)
Black Mud Sound, with Cornelius Claudio Kreusch (Enja, 1995)
Life Around the World (Alula Records, 1999)
The Gift (Triloka, 2002)
Unity (Healing Records, 2014)