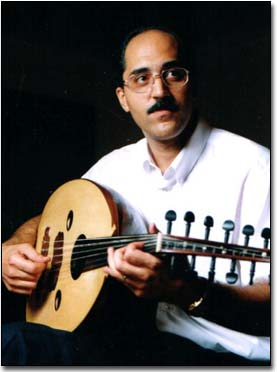 Omar Metioui was born in Tanger (Tangier), Morocco, in 1962. He studied Pharmaceutical Sciences at the University of Brussels. In 1973 he studied Western European musical notation, Andalusian chant and lute at the Conservatory of Music and Dance of Tanger. Between 1976 and 1980 he was the lute player and singer at the Andalusian Music Main Orchestra of Tanger.
In the year 1987 he became become First Lute player of the Orchestra of the Conservatory of Tanger under the direction of the Professor Zaitouni, carrying out up to 1.993 several tours for different European countries and of the Arab world.
In those years he also recorded three nubas under the direction of the Ministry of Cultural Matters of Morocco and the Maison des Cultures du Monde of Paris.
Through the Ministry of Culture he played several concerts in 1995, together with the Renaissance choir Juan of Triana.
He has received important awards along his career, as that of Arab Andalusian Music of Rabat. In the year 1994 he began to transcribe Nubas for the center of Musical Documentation of Andalusia.
His recordings include several albums with the group Ibn Baya and a few more with his ensemble or as a soloist ("Masterpieces of Arab-Andalusian Chant", "Omar Metioui", "Andalusi Lute and Ritual Sufi Andalusian", all with Sony).
Omar Metioui has an ensemble. It's group of Arab musicians group specialized in the interpretation of Arab-Andalusian Music (Hispano-Arab Music from Centuries IX to the XIV), directed by the Master Omar Metioui. It is without a doubt the best group from Morocco that visits regularly the Iberian Peninsula to perform the exotic musical result of combining medieval compositions of Al-Andalus and North African influences.
Musicians: Omar Metioui – Arab Lute and voice; Ahmed Al-Gazi – Rebab and Viola; Said Belcadi – Darbuka and voice' Abderraja Hassani – Kemanja; Sidi Abdeslam Amrani – Tar, voice.
Discography:
Música Andalusí: Núba Al-Istihlál (Sony Classical, 1995)
Música Andalusí: Núba Al-Máya (Sony Classical, 1997)
Tres Culturas (Pneuma, 1998)
Al Ála Al-Andalusiyya (Pneuma, 1999)
Misticismo, Música Sufí Andalusí (Pneuma, 2000)
La Fuente Del Amor Secreto (Pneuma, 2002)
Música Andalusí: Sufíes De Al-Andalus (Pneuma, 2005)
Música Andalusí: Cantos De La Noche (Pneuma, 2006)
Dhikr y Sama': Musica Sufi Andalusi (Karonte, 2009)
Ritual Sufi-Andalusf: Al-Shushtari (1212-1269) (Pneuma, 2013)